Arvind opens flagship store in Bangalore
By Elke Moebius | Vjmedia Works | June 28, 2014
The store launches Arvind's brick and click model Creyate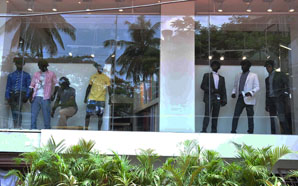 Arvind
Ltd is one of the largest integrated textiles and branded apparel players. With a big portfolio of international brands, Arvind Ltd has led them to success in the country. With a drive to expand with new initiatives, the new store in Jayanagar,
Bangalore
is also a launch point for a new concept by the brand- Creyate.
This store being the largest store of Arvind Ltd. across India, it was an ideal location to launch the new concepts. It is a 7,500 sq ft store and is spread across 4 levels - G+3. With Creyate, an innovative concept, Arvind forays into the digital technology segment which is in a boom phase now. A unique brick and click model, conceptualised with cutting-edge 3D rendering technology and Japanese precision manufacturing processes and perfected at two dedicated factories, it is an interactive interface which allows the customer to visualise and customize garments as per their choice.
Choice of fabrics, measurements, defining signatures -- everything can happen with just a click. It is designed to create garments the way the customer wants with total freedom of choice. Style stewards at the store help make decisions and choose the right look infusing the customer's confidence in the brand.
The store also has the Studio Arvind division which is the custom tailoring department. It is a peephole into Arvind's quality recognition of garments and shows the personalized attitude. It caters to convenience with different styles and fits for each category.
Speaking on the occasion, Kulin Lalbhai, Executive Director (New Initiatives), Arvind Ltd said, "It gives us immense pleasure to open our flagship store in the fastest-growing metropolis of India. The store has been designed by global design firm FITCH and aims to provide a beautiful and aesthetic shopping experience that has never been attempted before in the world of organised retail for fabrics. The store is carefully designed and organised to enhance the quality of everything that you see, touch, feel or interact with and will motivate you to explore more. Bangalore being the Silicon Valley of India is a "young city" with high aspirations & fashion sense. We hope to receive the same response for the new concept "Creyate" as we have received from Tresca & our other innovations."
From the portfolio of Arvind Brands, US POLO Association, Flying Machine, Arrow, Nautica, Tommy Hilfiger and Hanes will stock up the ready-made section at the store.