Avery Dennison recognises suppliers at fifth annual global awards ceremony
By Satarupa Chakraborty | April 04, 2018
Avery Dennison Label and Graphics Materials, during their fifth Annual Supplier Recognition Ceremony, recently recognized top pressure sensitive industry suppliers from all across the globe under 8 distinctive categories.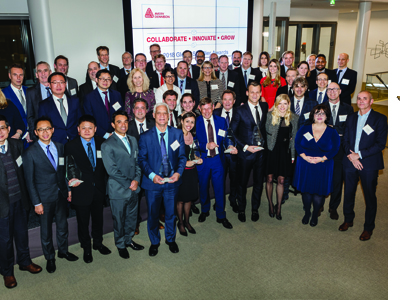 Avery Dennison Label and Graphic Materials recognized eight pressure-sensitive industry suppliers during the company's fifth annual supplier recognition ceremony held recently in Oegstgeest, Netherlands. Winners were selected based on their performance in areas such as sustainability, innovation, service, and quality.
Supplier Distinction Award was given to Jerich International (Gleisdorf, Austria), Best Emerging Supplier was won by Sumei Chemical Co. (Taipei, Taiwan, PRC) and Best Indirect Supplier award was given away to GP Lux (Kayl, Luxembourg). Eneco Wind (Mechelen, Belgium) won the category of Best Supplier Sustainability, Gantrade Corp. (Montvale, New Jersey, USA) won in the category of Best Supplier Service while BASF S.A. (São Paulo, Brazil) as Best Supplier Innovation, Sappi (Brussels, Belgium) won the award as Best Supplier Quality and USF Holland (Holland, MI, USA) bagged the award of Best Transportation Supplier.
Roland Simon, Global V.P. Procurement & Corporate Sustainability, Label and Graphic Materials, said, "Our suppliers play a key role in our mission to deliver value to our customers. This ceremony serves as a platform to showcase our suppliers innovations and outstanding support, and to thank them for their collaboration and consistent performance."