CANALI unveils new boutique at Palladium Phoenix MarketCity in Chennai
By Nabamita Chatterjee | February 14, 2018
The distinctive feature of the boutique, and the facade in particular, is the geometrical composition formed of glass squares and rectangles painted dark grey on the reverse side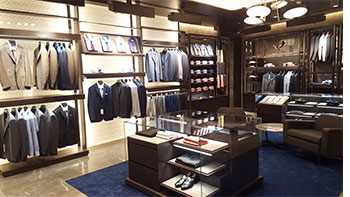 Leading Italian luxury menswear brand CANALI has recently opened a new boutique at Palladium Phoenix MarketCity in Chennai, Tamil Nadu. The new 93 square meter (1,005 square feet) store showcases the distinctive features of the brand and is the culmination of careful research combined with the architect's sensitivity in defining contours and details that exactly replicate their standards worldwide.
According to the brand, the aim of creating a modern, comfortable space characterised by a strong personality and meticulous care over detail has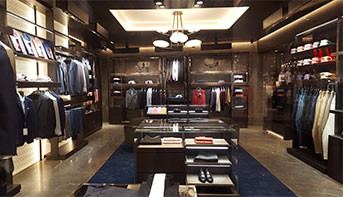 been beautifully executed and ideally satisfies the needs of the display structures, allowing customers to focus on one section at a time, but without losing sight of the others. The distinctive feature of the boutique, and the facade in particular, is the geometrical composition formed of glass squares and rectangles painted dark grey on the reverse side, some of them backlit, which immediately transform light into a striking feature of the architecture.
The choice of materials as per the brand guidelines like striped stone, wood, glass and leather, and their juxtaposition into similar or opposites, combining warm and cold, opaque and transparent, light and heavy, expresses the pleasure elicited by constant research, where everything comes together to create a sophisticated and unusual space that raises the profile of the products on display and puts customers at their ease.
The CANALI boutiques in India are located at New Delhi in DLF Emporio, Mumbai at Palladium Mall, in Bangalore at UB City, Hyderabad at Taj Krishna Hotel and in Kolkata at Quest Mall.
In addition to its 180 boutiques, a number that continues to grow, the brand can also be found in over 1,000 retail stores in more than 100 countries across the globe.