FMCG: Focus shifts to rural India
By Dinesh Jain | October 13, 2016
In the past four quarters, for instance, volume and value growth have fallen from 7.2 per cent and 9.7 per cent, respectively, to 3.2 per cent and 4.4 per cent, according to Nielsen data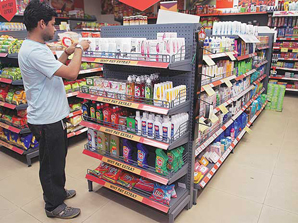 Unlike many other consumer segments, FMCG (fast-moving consumer goods) is the odd one with growth rates muted in recent times, and experts cautious on near-term prospects.

Harsh Mariwala, chairman, Marico, the maker of Parachute and Saffola, is "cautiously optimistic" about the growth prospects of FMCG in the near term. An industry veteran, Mariwala's measured statement is not without reason. The Rs 3.2 lakh-crore FMCG market has seen a slowdown for a while. In the past four quarters, for instance, volume and value growth have fallen from 7.2 per cent and 9.7 per cent, respectively, to 3.2 per cent and 4.4 per cent, according to Nielsen data.

While the September quarter will remain soft for most players, the broad consensus is that the second half of the year will be better.

Mariwala is in agreement but says the wait has been too long. "For consumption to lift economic growth, there is a need to improve the job scenario. That will lift sentiment, giving people the confidence to spend more. This, in my view, will help FMCG growth at a broader level," he says.

While pay hikes for government employees have come as a relief, it is seen as a short-term boost. "This is a one-time stimulus, which will lift the (FMCG) market to some extent. But, this is not enough," says Sunil Duggal, chief executive officer, Dabur India.

"There will have to be sustained focus on rural welfare and on lifting the minimum support price of crops. While the government is working in both areas, the effort may have to be galvanised to instill faith in people in the hinterland to increase consumption of staples. Similarly, in urban areas, salary hikes and improved job prospects will push people to increase consumption of staples," he says.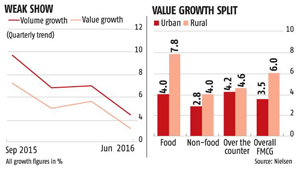 Despite the likely lag in FMCG growth, companies are shifting their focus back to rural. Near-normal monsoon and the likelihood of a good harvest has encouraged companies. This coming at a time when the prospect of tapping into farm incomes is greater after two successive years of droughts. "Companies will get back to the drawing board and focus on expanding distribution, looking at rural-focused products, much of which had taken a bit of a back seat over the past two years," says Abneesh Roy, senior vice-president, research, institutional equities, Edelweiss.

The prospect of rural demand recovering faster than urban is also stronger, he says. Almost a third of sales of FMCG companies comes from rural areas, though players such as Hindustan Unilever and Dabur have a higher proportion of rural sales at over 40 per cent, say analysts. Thus, rural demand will have a stronger influence on companies' overall volumes. If companies are able to tap this demand well, the sector should also be able to bounce back. Companies declined comment on their rural plans but they are expected to refocus on smaller pack sizes. Reaching out to the rural consumer through melas (fairs) and community initiatives will also grow. Companies are also expected to increase direct distribution and cover more villages. The downside risk emanates from aggression by unorganised and smaller players, and spike in crude oil prices, which can push up input prices.