Getting off on the right foot
Vjmedia Works | July 21, 2014
As the Indian footwear industry becomes more organised, players are honing their forecasting, distribution and display skills to woo the fashion-conscious buyer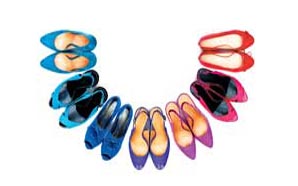 What could possibly be the significance of a footwear collection placed neatly at the window of the store of your favourite brand? While to the average shopper it would appear to be a preview of the latest fashion trend in the industry, for the canny store manager it could be articles that the company wants to push during a given time period. It has little to do with creative fancy, and is based on some hard-nosed forecasting built on facts, intuition and an eye for what's next.
Things get trickier when one considers the size and the complexity of the footwear market. The footwear market in India stands at Rs 35,000 crore and is expected to touch Rs 38,500 crore by 2015. Within this market you have everyday shoes, special occasion shoes and special purpose shoes.
Just imagine the forecasting challenge, trying to figure out the popularity of each new design or shape or material used months in advance. You can well imagine the financial risk as well: make too few and you lose sales and annoy customers; make too many and you are stuck with unsold - or perhaps unsaleable - inventory.
Here it is important to understand the difference between short-term forecasting and long-term forecasting. Most trends that you see on the Net or in magazines come from fashion shows and so it is easy to foresee what might work for the next one-to-two-year cycle. Then there are trends that are forward thinking - for instance, a breakthrough in the materials used or in the architecture of a pair of shoes - that have staying power and require more thorough investigation. In other words, trend spotting and forecasting is a continuous effort. Done properly, this gives a brand/retailer a heads-up on the changing demands of their consumers and helps minimise dead stock.
Before we proceed, we would like to add that our research is based on conversations with some national and international brands that dominate the organised segment and represents about a third of the total market; the remaining two-thirds is controlled by several small and unorganised players. When it comes to design, the organised market emulates the trends in mature markets like the US, France and Italy. With more international players entering the country, the industry is under constant pressure to raise the bar with regard to manufacturing, logistics and supply chain management.
Know your customer
First let us understand how forecasting works in footwear. Largely, companies in the organised segment forecast fashion trends and sales twice a year: spring-summer and autumn-winter. There are some exceptions. For instance, Bata and Reebok do more than four forecasts in a given year. For the purpose of forecasting, these brands rely a lot on historical data. Says Sumit Kumar, vice-president and head, marketing and customer services, Bata, "Other than studying the previous year's data, we look at how a shopper's product preference and frequency of visits change."
Tracking consumer data can sometimes offer mind-boggling facts. Says Asif Merchant, managing director, Catwalk Worldwide, "Companies have the tendency to pigeonholing the shopper into location categories like 'metro' consumer or the 'Tier-II and-III' consumer. We figured that a shopper's location has no relation with her taste in fashion. It is more region specific. For instance, we discovered that shoppers in the north-east India are more fashion-conscious than buyers in many metros." In effect, tracking street fashion in the north-east can give valuable insights into what will work and what won't, enabling the right business decisions for companies navigating an extremely competitive landscape.
Here's one player who learned that shopper data has strategic importance and not just tactical benefits. In the late 2000s, Liberty Shoes was facing a serious erosion in market share with very little insight on what the new buyer wanted. As it turned out, the problem lay in its distribution model. Till the mid-2000, it operated through exclusive franchisees who met twice a year to give their inputs on the kind of designs and price points that would sell over the following months. The company realised that to get a better handle on emerging trends it had to own stores. Today, the company has 100 company-owned and 450 franchised stores.
While forecasting, the company slices and dices data captured at the company-owned stores. Admits Adesh Kumar Gupta, chief executive officer, Liberty Shoes, "It was impossible for us to get genuine data on sales and shoppers from franchisees."

Reach on time
That said, footwear companies also realise that obsessing over the best way of collecting data is pointless. Making new designs available and replenishing stocks quickly are equally important. Says Gupta of Liberty, "If channel partners don't see any ROI, the axe will fall on the manufacturer." In footwear, the lag between procuring raw material to sending the inventory to the store is three to six months on an average.
The going gets tough for players who operate through the franchisee model. Five years ago, Liberty was stuck with dead inventory running into lakhs. The problem ran across key functions like design, manufacturing, logistics, and supply chain. By 2008 things were almost out of control. There was no logic behind forecasting, especially at the distributors' and retailers' end. If a particular range sold well, the distributors and retailers responded by placing big orders of that item. In some cases when demand dropped, franchisees were left with six to 12 months of inventory and limited working capital.
This issue hit Liberty hard when it realised that new products were not making it to the retailers' shelves. The company voluntarily started giving small batches of inventory with margins in the range of 24 to 30 per cent to its channel partners. This too failed as distributors and retailers started demanding higher margins. "When we returned to the drawing board, our first lesson was to work with a conservative forecast. In India, a pair of shoes is still a need," adds Gupta. While India's per capita shoe consumption is one pair (the number may go up to two-three pairs for consumers living in the metros in India), in the US it is between seven to 10 pairs. Liberty decided to identify the constraints in each department, leading to overhaul of its business model.
This course correction was kicked off by the company five years back. Says Kiran Kothekar, director of Mumbai-based consultancy Vector Consulting Group, "Since it is impossible to get the forecast right all the time in any fashion category, it is best to react faster to market dynamics." Around 2011 Kothekar was roped in by Liberty to help the company execute its plan. In the first year, the company changed its supply chain by setting up a central warehouse in Panipat. In the second, it worked to strengthen its relationship with distributors and franchisees. Distributors are allowed to hold inventory for 30 days now. To ensure speedy replenishment, Liberty began contacting its distributors and retailers on a weekly basis to take stock of what was selling. The lead time between the manufacturing and replenishment at the store was brought down from 90 days to 21. The consumption-based pull system, as opposed to a reorder point system ensures lower slow-moving inventory in stores as supplies are made as per sales rate, not minimum order quantities.
As soon as this was achieved, the franchisees were asked to improve assortment at stores. The company narrowed down its product range to 3,000 models per year. It started killing slow-moving SKUs, replacing it with new models. The new ranges were classified as 'bestsellers' and 'innovation'. Bestsellers (models that sell consistently through the year) comprises 70 per cent of Liberty's production target. The 'innovation' category includes models displayed in high street stores. With these moves, the company was able to cut down on its discount percentage during a sale period to 5 per cent from 14 per cent a few years ago.
Put up a great show
Outdoor brand Woodland, which operates 500 company-owned stores across India, has put the onus of inventory management on its store staff by making inventory turnover a key performance indicator. The company keeps a close watch on how every store meets its sales targets. Says Amol Dhillon, vice-president, strategy & planning, Woodland, "Usually area managers prefer placing bulk orders to stock maximum inventory. This helps them show numbers. When they are not able to meet targets, the next step is to move the distress inventory in clearance sales twice a year. We discourage this by allowing them to stock four month's inventory."
The company also uses select stores located across metros for soft launching new products. Currently it is conducting a soft launch of its premium outdoor gear that includes high-end walking sticks, solar power charger, waterproof mobile phone covers, sleeping bags etc. Since all these products are manufactured in Italy, it is crucial for Woodland to get its forecast right in terms of the potential of the market in India. The data captured here will be played back to the company and production targets will be modified accordingly. The time Woodland gives to a soft launch is between 15 and 30 days.
To push sampling of products priced in the premium and medium range, Woodland will soon come up with experience centres with an average area of 20,000 sq ft. The company also plans to enhance the consumer experience with drastic changes in its visual merchandising strategy.