Good Earth's Lead Designer & Director of VM to speak at In-Store Asia, 2019
By Satarupa Chakraborty | February 08, 2019
Pavitra Rajaram, the Lead Designer, Director of VM & Head of Content & Creative Strategy, Good Earth will speak at ISA, 2019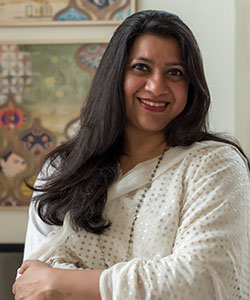 Pavitra Rajaram, Lead Designer & Director of VM, Good Earth, will speak on the session titled 'How to bring back Indian culture on VM palette' at In-Store Asia 2019 (now a part the family of EuroShop Düsseldorf, the world's #1 retail fair), the largest retail experience expo and convention in the Indian subcontinent. The upcoming edition of the event is scheduled to be held during March 14-16, 2019, at Bombay Exhibition Centre, Goregaon, Mumbai.

Pavitra is the Lead Designer, Director of Visual Merchandising and Head of Content and Creative Strategy at Good Earth, India's iconic luxury lifestyle brand. As part of the founding creative team, she has played a significant role in establishing the distinctive creative footprint of the brand. She is also the Founder and Creative Director of Pavitra Rajaram Design, an award winning interior design firm. A long-time believer in the power of design led thinking in brand strategy; Pavitra also advises India's leading paints and wallcoverings company Asian Paints on their décor strategy. Since 2017, Pavitra has been involved in setting up and managing a not for profit arts and culture archive called Sarmaya that focuses on experiences and programming both offline and online to engage younger audiences in the art of the Indian Subcontinent.

Pavitra is a recipient of the INTACH award for space restoration, the EDIDA award for product design, and is on the prestigious AD100 list of the 100 best architects/interior designers in South Asia. Pavitra has a degree received magna cum laude from Smith College, USA.