Marks & Spencer to reach 100 stores in India within 5 years
By Satarupa Chakraborty | March 22, 2018
The British retailer, with 63 stores pan India currently, plans to take the store count to 100 by next 5 years. Expanding in smaller Indian towns and adding on smaller formats like beauty, lingerie etc are included in Marks & Spencer's growth strategy in the country.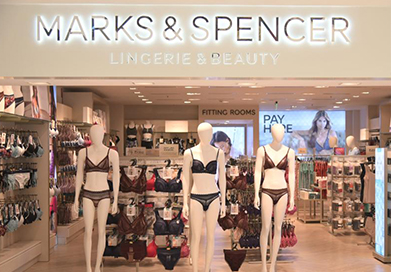 British fashion and accessories retailer Marks & Spencer plans to reach a mark of 100 stores in India in another 5 years. The British retailer, currently present through 63 stores across India in partnership with Reliance Retail, has recently started setting up stores in tier-I and tier-II cities like Jaipur, Raipur, Lucknow etc along with launching smaller store formats for lingerie, beauty etc. Marks & Spencer also started retailing through SIS formats in India last year through Reliance's multibrand retailing chain, Project Eve.
The British retailer, who is currently finalizing their business strategy in India, is likely to focus more on smaller formats of stores, specially in lingerie category, for which the retailer enjoys a whopping 35% market share in the UK. However, there has been report of plummeting business for the retailer in its origin country.
Taking their plan to extend retail footprint in smaller Indian towns, Marks & Spencer will soon launch stores in Aurangabad and Bhubaneswar. The retailer launched latest global concept, the Boutique, about 2 years back in India, which is here to stay for next few years, a company spokesperson shared.