Offline stores will remain as primary choice for grocery shopping: Subhash S
By Retail4Growth Team | March 15, 2019
In his informative session and presentation on the first day of convention at In-Store Asia 2019, Subash S, CEO, Watasale highlighted the importance of integrating cashier-less technology model in offline retail.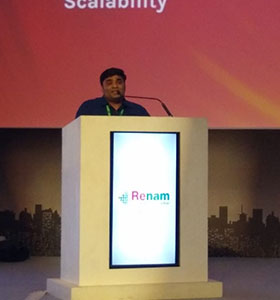 Subhash S, CEO, Watasale, spoke on a theme Cashier-less retail model: cost-effectiveness and scalability at ISA 2019 held in Mumbai. Subhash said offline and online stores will co-exist in the future because customers want it that way. Offline stores will remain as the primary choice for shopping groceries because customers want to touch and feel the product before making the purchase.
In his speech, Subhash said, "In India most of the customers prefer offline shopping over online shopping due to certain reasons but shopping in an Indian offline store is a nightmare because our roads are very congested and it is very difficult to set up a offline store with an ambient parking and these reasons are taking away several customers from offline shopping and they are forced to try other shopping channels. But they definitely want offline stores to be there. Adopting a cashier-less technology model will bring offline store up to the convenience level of online shopping."
Talking about Watasale, he said, "Watasale is based on just walkout technology, which is an autonomous cashier-less technology and it doesn't let customers do extra work. Shoppers at the Watasale store have to download the company's Android app from the Play Store before entering. Scanning a QR code generated on the app will help them get past the gated turnstiles into the store. The shopper can pick and choose whatever he/she wishes to purchase before coolly walking out of the store. Within five minutes of exit from the store, a detailed bill will arrive on the shopper's phone for which payment can be done through mobile wallets, debit and credit cards.