"SOHNA" by Sawansukha unveiled in Camac Street, Kolkata
By Nabamita Chatterjee | January 30, 2018
Sohna by Sawansukha, an all gold exclusive showroom by Sawansukha Jewellers is a new brand outlet spanning an area of 6000 sq. feet recently launched at Camac Street, Kolkata.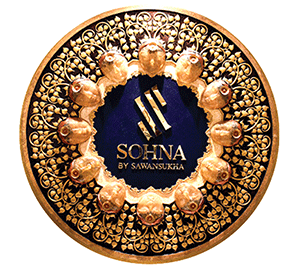 With 250 years old history in the jewellery business, Sawansukha Jewellers recently opened its store Sohna by Sawansukha, an all gold exclusive showroom situated at Camac Street, Kolkata. Starting its operations 50 years back in the tram city, the brand had humble beginnings in Rajasthan. Keeping with the trend of the brand's rich heritage, every corner at Sohna speaks of artistry and royalty. According to the brand owners, minute attention has been paid on fine detailing of every nook and corner of the emporium. The décor of the emporium is laced with grandeur and opulence in the form of colour combination, customised in-store fixtures and Italian flooring which are meant to enrich every moment of the visitor spent in Sohna. The external appearance of the store signifies the importance of marriage and mythology in Indian tradition. A section lined up with gold glittering metamorphosed into artistic forms is essentially devoted for would be
brides whereas 12 faces of fancied Durga representing the distinct identity of each woman forms the logo of Sohna.
Right from aisle to lounge room, the aesthetics of the store exhibit varied artworks as the partitioning between the sections is painted with flowers in bold red, golden base walls with baroque cut out, ceilings made from shard glass, gold lacquered boxes displaying alluring jewellery and royal blue chairs completing the Moroccan style of art. The passage that leads to the store is done in white with inverted wine glasses above the head stocked together to give a golden era look. The store is segregated in two sections with a blue paneling that has logo of Sohna in solid gold. Gold bars are stacked to resemble the letter S, the initial of Sohna.
One section houses exquisite gold jewelleries known as contemporary segment and other bridal segment is essentially devoted to would be brides.