Spin to open an experience center in Delhi soon
By Satarupa Chakraborty | January 26, 2018
Spin, the furniture brand of Shark Shopfits, will open an experience center in Delhi, which will span across 6000 sq ft, which will take on a Nordic design.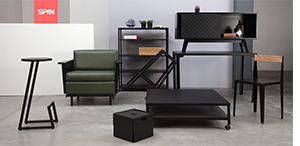 Spin, the B2C furniture brand from Delhi-based retail fixture manufacture Shark Shopfits, will soon venture into brick-and-mortar retail through an Experience center at New Delhi's Chhattarpur area. The upcoming store, spread across 6000 sq ft, will include retail space and a café and will be designed by Shark Shopfits.
Talking to Retail4growth, Manish Jain, Founder and Director, Shark Shopfits and Spin, said, "Spin was launched in 2017 as a B2C furniture brand and was accessible through only online channels. It was how we dabbled our long-term experience in fixtures into a furniture brand. Within a year or so, we realized that we can bring a lot more customers with a physical store." Going forward, Spin will be retailed through three different channels – online, brick-and-mortar store and setting up establishments for B2B spaces. Spin has recently been associated with Flipkart for their office space in Bangalore.
On the design of the upcoming experience centre, Jain added, "It will be very much in line with the brand characteristics that Spin has created – simple, straight and Nordic."