Starbucks opens three new stores in Delhi and Mumbai
By VJ Media Bureau | Vjmedia Works | June 04, 2013
The leading global coffee chain currently has 15 stores across the country with 7 stores in Delhi and 8 stores in Mumbai.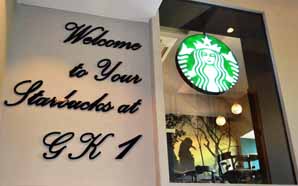 Starbucks has expanded its presence in India with two new stores in Delhi and one store in Mumbai. Commenting on the store openings, Avani Davda, CEO, Tata Starbucks Limited said, "Each of our stores is strategically located in both cities and caters to people of diverse ethnic, income and age groups with varying tastes and interests. We will continue to extend our presence in locations where our customers want and expect us to enjoy the unique third place between work and home. It is our constant endeavor to deliver a locally relevant Starbucks Experience to our consumers; one that reflects the Starbucks brand as well as India's rich culinary heritage."
In Delhi, the Starbucks store is located at Greater Kailash I - M block market which is spread across 190 sq m with a seating capacity of 50. While Starbucks in Nehru Place Metro in New Delhi measures 180 sq m with a seating capacity of 70. In Mumbai the new store has been launched in R-city Mall, with an area of 155 sq. m with a seating capacity of 75. Tata Starbucks Limited is the 50/50 joint venture between Starbucks Coffee Company (Nasdaq: SBUX) and Tata Global Beverages Limited. Starbucks entered the Indian market in October 2012 and currently operates fifteen stores in India.