"Technology will rule the VM of tomorrow"
By Satarupa Chakraborty | February 26, 2018
Joe Baer of ZenGenius Inc spoke about the art of storytelling through technology at the stores while adding the experience of brick-and-mortar to online retail. Baer also highlighted on all the duties that impactful VM should perform apart from only scaling the sales figures.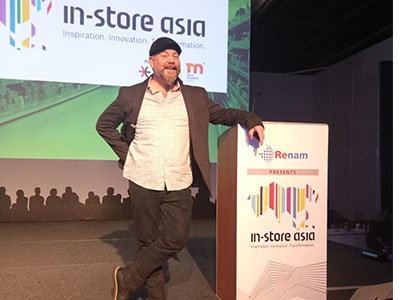 In his session on "The Art of Creating Impactful VM in Omni-channel retail" on day-2 at In-Store Asia 2018, Joe Baer, Co-founder and Creative Executive Officer, ZenGenius.Inc, spoke on how technology is contributing immensely to the art of storytelling in VM and how to make use of the flexibility that omni-channel is offering today.
Calling VM the "heartbeat" of a store, Baer added that VM should improve store experience and make shopping fun in addition to upping the sales figures. He explained on how large screens, video walls, projection mapping, augmented reality, QR code scanning etc are re-shaping the way storytelling has been done through VM for years. Talking on grabbing the attention, he spoke about the use of "motion" at many touchpoints at the store in order to catch attention. Baer also suggested to make use of flexibility of omni-channel to bring VM alive at store, while online retail should be able to offer the touch, feel and services that brick-and-mortar is offering.