Titan Eyeplus inaugurates new store at Tollygunge, Kolkata
By Nabamita Chatterjee | 6 | April 22, 2017
With an extensive retail network across the nation, this is the 27th Titan Eyeplus store in Kolkata and 45th in West Bengal and the 108th store in the region East.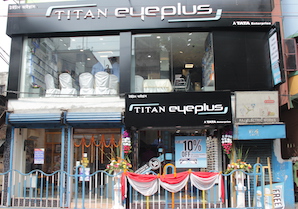 Titan Eyeplus, the largest organised optical retail chain from Titan Company Limited, recently inaugurated a new eyewear store in Kolkata, West Bengal. Located at Tollygunge, the new store aims at providing an enhanced shopping experience to customers. Spread across 700 sq. ft., the new store was inaugurated by the famous Tollywood actress, Swastika Mukherjee and Rajeshwari Srinivasan, Regional Business Head & AVP-East, Titan Company Limited. The store has varied product offerings of frames & lenses. Speaking on the occasion, Rajeshwari Srinivasan, said, "This new store is a step towards expanding and enriching retail experience for our consumers. We have been focusing on increasing our retail network in West Bengal by offering an array of world class eyewear products and distinguished services. By expanding our presence in the country, we are providing a bouquet of products in-sync with the latest fashion trends, as well as facilitating eye check-ups through our 20-step zero-error eye test conducted free of cost by certified optometrists."
The In-store experience for the customers will be very cosy and chic at the outlet. The store offers an open browse and try retail format which helps customers to pick and choose from a wide variety of trendy frames, lenses and sunglasses. Ronnie Talati, CEO, Eyewear Division, Titan Company Limited said, "Titan Eyeplus has always strived to be in the forefront providing quality branded products across varied price points. The brand has planned to expand its retail wing across India and this is our 475 store in India. We have also extended our offerings in small format stores in tier 2 and 3 cities across the country to widen our reach. "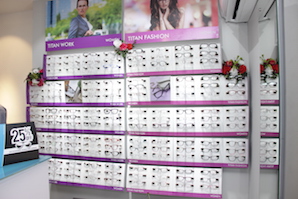 Rajeshwari, Srinivasan adds, "We are going add up 20 more stores for Titan eyeplus in East and the main markets for us is West Bengal, Bihar as well as North eastern states. The Titan eyewear division in the east has grown by 15% this financial year. Among the organised retail chain our brand has a market share of about 20-22% and we are trying to add value to it everyday because still the eyewear market in India is largely unorganized. We are a very serious player in this segment and we will be expanding in this retail model having franchisee stores which are an extension of our brand itself, many of our partners are 15 or 20 years old and are with us since inception and with them the brand Titan has grown. Most of these retail outlets are of 700-2000 sq.ft. of space according to the availability and location. For this particular store would like to mention that after identifying the right market which is there in Tollygunge we waited for 1 and half years for the perfect retail space which can have the right visibility and right segmentation needed for our eyewear range." At present, Titan Eyeplus has over 475 stores operating in over 200 cities.