V&B launches store in Bangalore
By VJ Media Bureau | Vjmedia Works | February 17, 2014
Within the next four years the luxury tableware brand plans to open 16 stores across the country.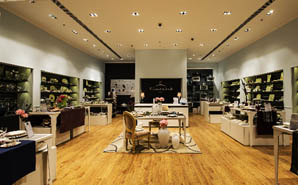 V&B Lifestyle India Pvt. Ltd. brings to Bangalore, the second Villeroy and Boch tableware store of India located at The Collection, UB city. It is a 100 sq. mt. space of premium tableware products which offers personalized service to all customers through their staff which is trained to cater table-settings based on personal preferences.
New Wave, the best selling series at Villeroy and Boch uses a promotional modus operandi through the name NewWave Collection Cities of the World. Four different patterns are created every year for cups and saucers in the NewWave series and they represent different metropolises of the world. The 2014 patterns take you on a trip to Amsterdam, Cape Town, Moscow and Shanghai. The brand offers a feel good factor to the Indian customer base through its special Indian edition created. Likewise, the story unfolds for its product range.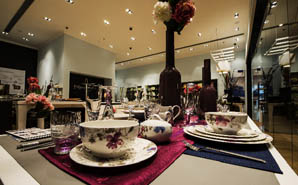 Sanjay Kapoor, Managing Director Genesis Luxury says, "After the successful opening of Villeroy & Boch's 1st store in Bombay, we are happy to announce the opening of our 2nd store at UB City.† This space will be for discerning shoppers to fully appreciate the brand's most coveted designs and craftsmanship.†With the belief that luxury should be an experience rather than a price tag,†Villeroy & Boch brings together†265 years of heritage, innovation and superb design quality. "
"Bengaluru, being the economic and cultural hub, it offers Villeroy & Boch an opportunity to realise its potential as a premium luxury lifestyle brand," puts in Amit Gadkari, Chief Operating Officer of V&B Lifestyle India Pvt. Ltd.
Tableware collections made from premium bone porcelain have been brought to the 'table'. The store extends its product range to wine glasses developed in collaboration with a European sommelier and fall under their Purismo series. Within the next four years the brand plans to open a total of 16 stores across the country.