Wadpack installs Esko's Kongsberg XN24 and ArtiosCAD software
By Nabamita Chatterjee | Vjmedia Works | April 23, 2015
With the installation of the new Esko Kongsberg table, Wadpack will be able to provide unique packaging fitments and enhance the comprehensive portfolio for several packaging related requirements.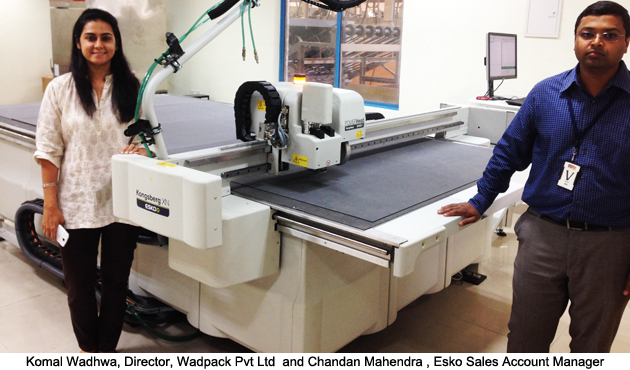 Wadpack Private Limited, Bengaluru-based company in the corrugation industry, recently installed Esko's ArtiosCAD software for structural design of cartons & components and a Kongsberg XN24 sample making table to enhance its design, prototyping and profile cutting capabilities.
Wadpack plans to use the Esko's ArtiosCAD software and the Kongsberg cutting and creasing table for prototyping innovative designs and creating short run sample boxes. The Kongsberg XN24 sample maker with its power head and Multi Cut HP head attachments is built for cutting and creasing high strength materials. The robust cutting table can be used continuously, making it especially suitable for short run production.
Komal Wadhwa, Director of Wadpack shares with P-O-P, "New product development in secondary packaging is done by Wadco's in-house design team. The team will use the Esko's software to develop these products and finish them on the Kongsberg XN24 sample making table. We will also use the Esko solutions to develop customised boxes and produce special corrugated or foam profile packing components. These components will provide anti-shock insulation for the shipment of high value goods."
Wadpack has 60,000 metric tons capacity for corrugated boxes and pallets for exports.
Apart from the creating prototypes and samples, the company is now planning to design and manufacture special profile cuts for POP and display markets. Wadpack will use a combination of materials and substrates including corrugated and honeycomb board, and acrylics. The organisation has a complete in-house production workflow from design and prototyping to corrugation to flexographic printing, die-cutting, slotting and both glued and stitched box-making operations.
Shrihari Rao of Esko India opines, "At Esko we have always believed that innovative packaging can lead to enormous savings and efficiencies for Indian manufacturers of high technology products and components. The use of Esko's software in combination with the robust Kongsberg XN24 cutting table with its special heads allows Wadpack to create some very unique packaging solutions for its customers who need to ship complex high value components or products without fear of damage and cost overruns."