Ayesha Accessories + Cafe Py – Bringing the quirky Pondicherry culture alive
By Satarupa Chakraborty | July 17, 2018
Ayesha Accessories's flagship store in Pondicherry, like many other brands, brings F&B concept in the same space and weave around the city's old and new characters in the most fun, quirky and vintage fashion.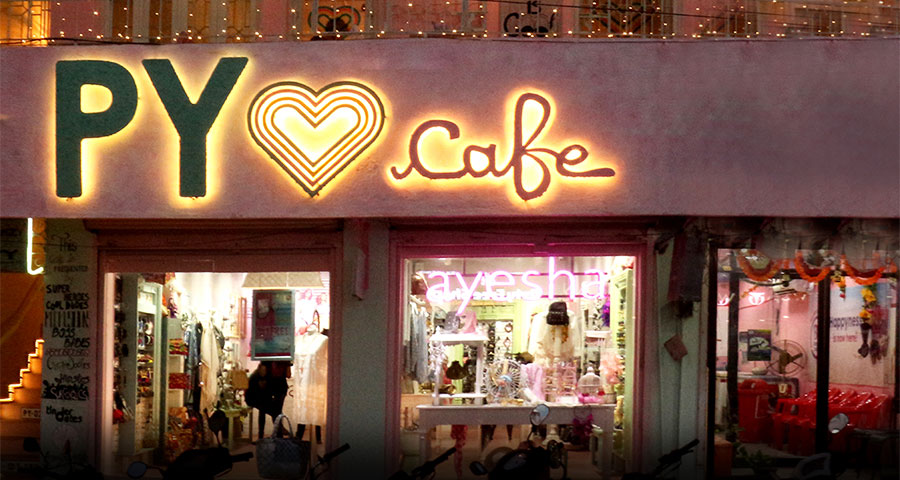 Fashion accessories brand Ayesha Accessories has recently brought a café concept, Café Py along with their new flagship store in the brand's birthplace Pondicherry.
Located at Pondicherry's Mission Street, Ayesha Accessories's store along with their new café concept, Café Py, is a story of bringing life and vintage vibe into a redundant-looking apartment space. While the store is spread at the ground level and the floor above, the rooftop has been dressed in quirky and funky style to transform it into a café.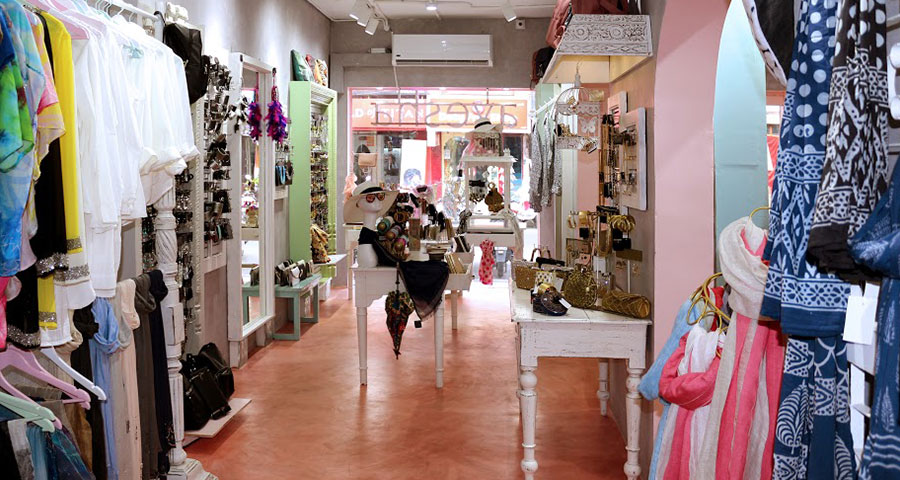 The store front is a see-through glass window and the acrylic letter branding shines bold and bright in electric pink. Beautiful hand carved antique doors is mounted on the walls to display the accessories. The fixtures, display stands are all wooden and were sourced from local antique shops, restored and painted in various shades of pastels and white. The walls are painted in neutral shades of grey and white. The oxidised pink flooring gives a fresh look to the store.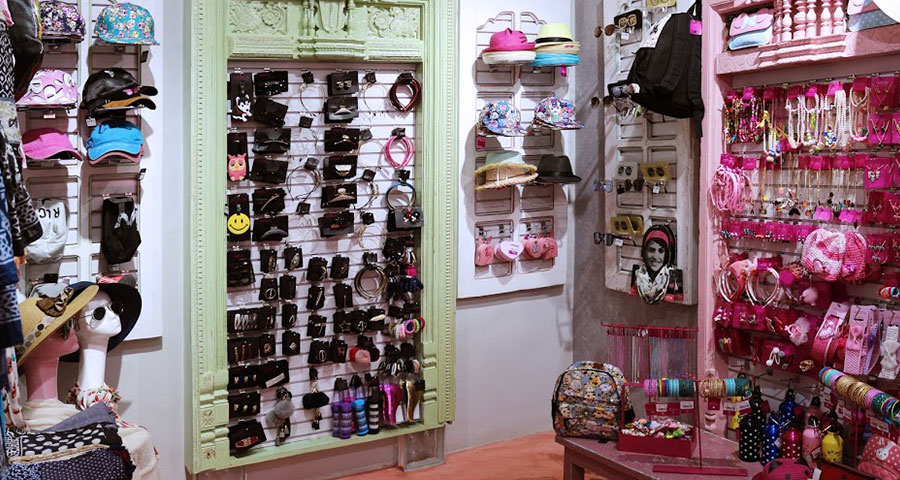 To enhance the shopping experience, products are organized by theme, such as pastel, ethnic, or metallic collections, with sub-brands kept on dedicated displays. Products are grouped in displays in colour blocks to suggest pairings to match outfits. A harmonized playlist has been carefully selected for the young female customer base, to create a fun and energetic environment and encourage customers to linger over the displays.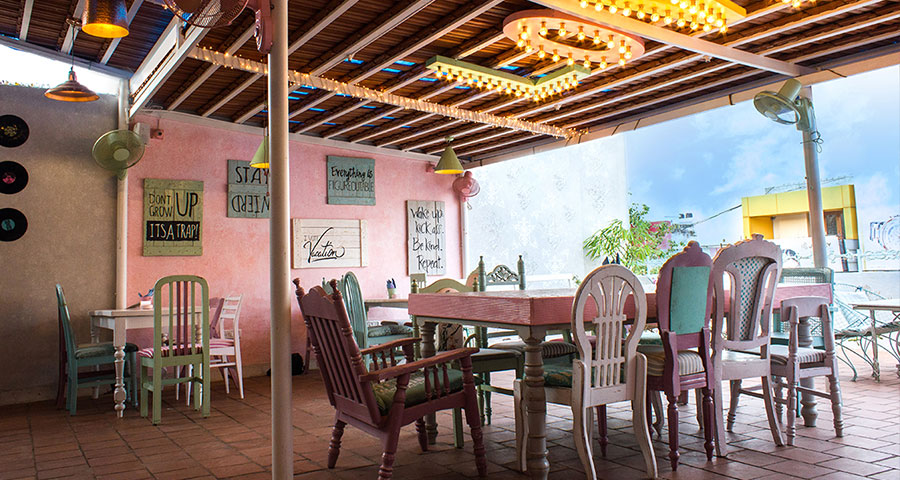 On the combined space of store and café,Jacqueline Kapur, Founder, Ayesha Accessories, said, "I already had the experience to run a restaurant, but I was dreaming of something which was more unconventional and younger. A place, where people come to and relax, but also are surprised by the little gimmicks around every corner. To plan a concept like this can be possible, but the spontaneity and authenticity gets lost in this way. So our concept was "no concept". We built it around a basic concept of "vintage pastels""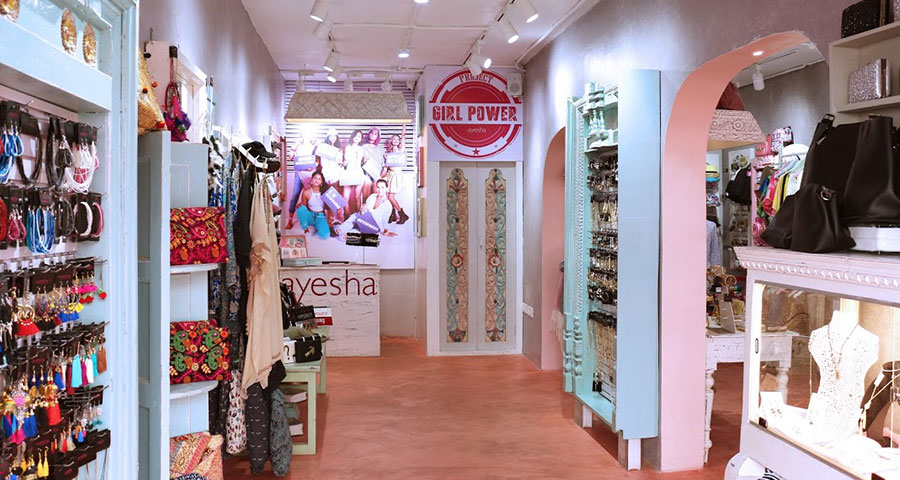 Days were spent to rummage through old furniture stores at the side of Pondy's streets. Therefore, there's hardly any uniformity in terms of colour, shapes and styles. Therefore, the team decided to colour them creatively with different finishes. The final touches of the interiors came together from all kinds of people, we had graffiti artists, metal sculptor from Bangalore and girls evenings , where endless hours were spent brainstorming for quotes that could be painted on wooden boards which are displayed all over the cafe. Quirky reads like 'mirror mirror on the wall' opposite the actual bathroom mirror in reversed script added to the drama and later declared itself as the most proclaimed "selfie point".
The staircase leading to the first floor was a big challenge because it was dark, narrow and steep. Mirrors with stencilled quotes within colourful frames along the right side added to the expansiveness while the character of the city was depicted through prints that read like car number plates starting with "PY" and ending with some funny words. The staircase is lit by LED lights following the steps along with a couple of small vintage chandeliers. The staircase leads to the entrance of the café that reads, " welcome to our loud crazy fun place" .
Stencil Artist/Graffiti Artist : Shunnal Lingade
Metal Sculptor: Rahul KP aka Mechanimal (He created our signage with laser cut sheet metal, with metal paint texture, vintage music instruments installation with PVC pipes and perspective heart , clock installation with chains and old clocks and laser cut metal sheets shaped into LOVE.
Design : Architect Abhinaya and Team Ayesha Accessories.