Citibank goes merry-go-round!
By Susmita Das | January 29, 2014
An unlikely name in the VM context Citibank now gives retailers a run for their money with this exclusive window that features an interactive display with high end technology and playful aesthetics at the Palladium Mall in Mumbai. The window has been conceptualized with the aid of design group Liganova.

A combination of Santa flying in an air balloon, a lit moon at the back ground, a merry Christmas signage and a skyline as the backdrop completes the Christmas travel theme on this window. But the main highlight on the display are the motion sensors which get activated with the movement of the passersby. On activation, the fire in the balloon comes up, and so do the lights in the basket and the merry Christmas signage, all creating a hallow effect around the building. Also, when the sensor picks up motion outside, all the lights get activated creating the effect of a merry-go-round turning.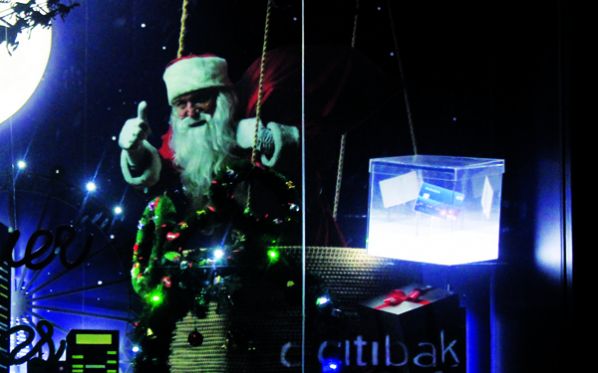 This window display also features a magic box with a Citi Bank card, which is the only product displayed on the window. This magic box looks like a mirror box, but as soon as someone walks by, it lit