Darwin - Books, Botany & Bar
By Elke Moebius | Vjmedia Works | July 15, 2015
Nestled amidst the picturesque surroundings of Mahabaleshwar, Darwin comes as a pleasant surprise to those who visit Saj Resort. Designed by The Busride Studio, the bar draws inspirations from the discovery of evolution, old Botany textbooks and love for nature.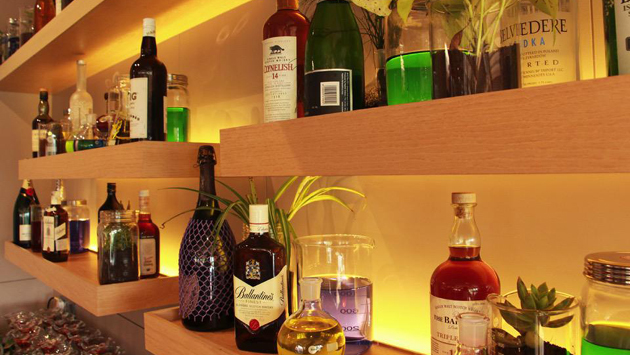 Set deep within the thriving beauty of Mother Nature, Darwin is designed as an ode to the beauty around. Full-length windows welcome the natural surroundings of plush greenery with open arms. The environment theme of the bar, inspired from nature, uses impressions of botanical samples to create a unique visual language for the concept. Featuring old school wood paneling, it creates a great setting for relaxation and socializing during the day and the evening for the hotel guests.
"The brief given to us was to create a library for the hotel that during the day served herb-infused drinks and had a very fresh vibe. So we started work on the design of a bar that might've been conceived in a botanical garden. Somewhere along the way, an evening vibe was created for those looking for some lounging after a long day of tourism," says Zameer Basrai of The Busride Studio.
To complete the experience the space has been adequately decorated with'botanical specimens' that are highlighted with the use of back lighting and strategic placement in the formal warm library like environment. The bar was conceived in a typical vintage lab theme with a reading library niche as a center piece to add an eclectic touch. The collection of drinks are placed with little terrariums and potted succulents to add credibility to the concept. At sundown, the soft backlighting in the bar, created with an LED concept, adds a dramatic touch to the whole space.
Different seating concepts are used to serve difference engagement purposes in the environment. The bar, dining and lounging seating are planned carefully to create a great place to hangout. An interesting'swing seating' concept adds informal casual charisma in the experience of the space.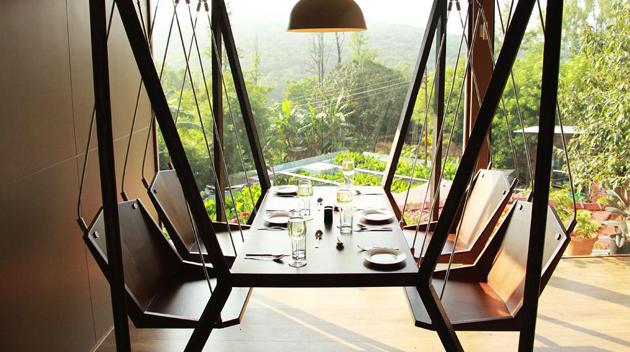 Saj is chosen for mini-vacations by people who want to spend time outdoors and be away from the hustle and bustle of an urban lifestyle. So Darwin is specifically designed for guests to get closer to nature, where the entire family can spend long hours without the feeling of being inside a bar.
Fun Fact!
The bar was originally intended to be a library! It was meant to be a space where one can relax, learn and be at peace with nature. Over the discussion process, the bar idea seeped in and it was decided to make it a hybrid library-bar which was then called Darwin.
Why the name Darwin?
The space is based on the theme of botany and has actual specimens from the surroundings. This display constantly changes and with a library on board as well, it came across as a learning space for kids. Hence the name Darwin struck and suited perfectly
.