Mattel Toys connects with their TG innovatively for Children's Day
By Nabamita Chatterjee | November 15, 2017
A live and interactive Pictionary was organized with Mattel at Navi Mumbai's Seawoods Grand Central Mall. Conceptualized to promote the spirit of learning with fun, the winners of the game walked home with some goodies from Mattel Toys.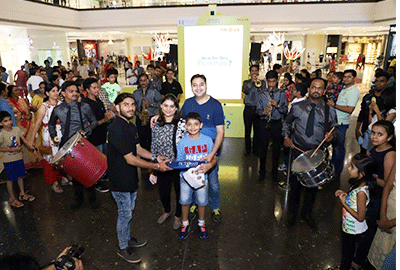 Pictionary, a game that combines word-play with art, is a crowd favorite across the globe. Mattel Toys in a first of its kind initiative in association with Navi Mumbai's Seawoods Grand Central Mall brings to life an engaging game of Pictionary to unsuspecting shoppers and especially for Children's Day – November 14, 2017.The event comprised of an extraordinary setup with a live screen that has been installed within the mall premises. It presented an opportunity for kids and adults alike to take part in Pictionary. The highlight of the game, however, was a mime artiste who gave the game a new twist and an element of added fun.
"The experiential marketing game in Indian retail has gone up a few notches over the last 5 years. At Nexus Malls, we are committed to deliver a new experience each time we plan something for our consumers. We have successfully pulled of Augmented Reality, Digital Dussehra and now, with Pictionary, our objective is to ensure there is an Online-Offline connect with the consumers. This Children's Day, we wanted the kids to experience a LIVE game of Pictionary and send them home as winners, with a unique experience across four of our assets viz. Seawoods Grand Central Mall, Ahmedabad One, Mall of Amritsar, and Treasure Island (Indore)." said Nilesh Singh, Centre Head, Seawoods Grand Central Mall.
Mattel Toys has focused its efforts around the core philosophy of 'Play with Purpose' – where each game and toy developed by them has an intrinsic benefit linked to it.