ALBARI flagship store opens in Kolkata
by Nabamita Chatterjee | July 18, 2017
With state of the art designing studio cum workshop, the interior space of the outlet has intricate Indian royal motifs and designs as a part of its décor as well as in the apparel collection which are brought to life by a team of skilled craftsman and innovative designers.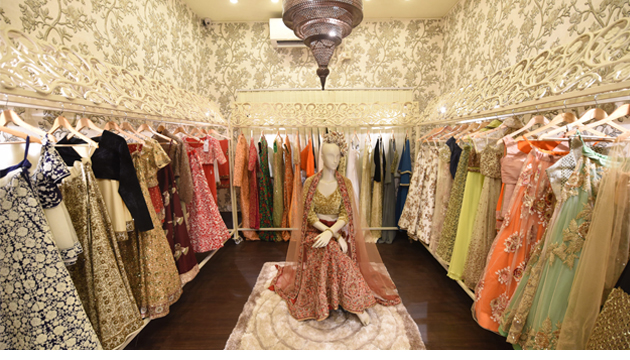 The duo Arifa Akhter (fashion designer) and Rupesh Agarwal, recently unveiled their exquisite ALBARI flagship showroom. The store, spread over an area of approximately 2000sq ft. is nested in the urban heartland of South Kolkata showcasing its exclusive fashion wears for both men and women. To create something new in the fashion industry Arifa Akhter and Rupesh Agarwal came together to form the fashion brand ALBARI -"Makers of dreams"–the flagship brand of ARI Fashion world. "We believe that ALBARI is just not a fashion term; it's a lifestyle born out of our daily lives" opines the duo.
The interior of ALBARI has been conceptualized by Arifa. While describing the story behind it Arifa shares, "We wish to touch our customer's lives with the right kind of fashion trends created out of one's own story through fulfilling the dreams of many who aspire to experience a perfect blend of contemporary with the richness of Indian traditions."
The store has been nicely divided into two parts, the front section showcases the contemporary and western wear and men's couture having a chic and minimalist décor in white background. The inner section of the store has the bridal and intricate embroidered apparels and the décor of the space resembles that of a royal court or 'drabar' with highly intricate Indian design motifs and friezes. In between the two zones is the consultation area which has also been done in a very cosy manner with royal high recliner as one sits for consultation with the fashion designer and the walls covered with mirrors to adore onself.
"This particular store décor is a part of our dream for Al Bari and in near future we will travel with this concept to other places. After consolidating the business here by creating a base from my own city Kolkata, we wish to open and expand with stores one each in Delhi, Mumbai, and Dubai", opines Arifa.