Retail Story rolls out first in-store campaign of Lays Maxx, Doritos & Honda Hornet
by Satarupa Chakraborty | July 10, 2017
Retail Story, the new division will handle the activities for various brands at retail touchpoints Gurgaon-based integrated marketing agency, Brand Street India has recently announced the birth of their retail division - Retail Story.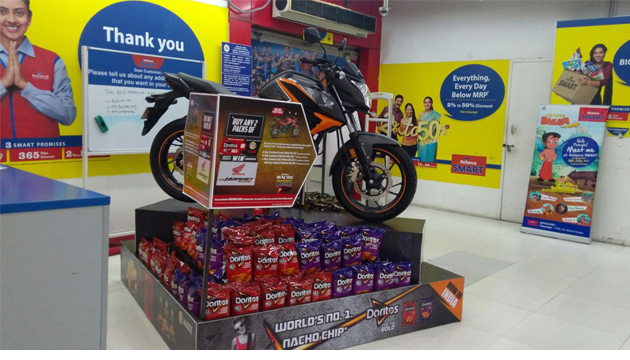 Retail Story, the retail division of Brand Street India, recently rolled out it's first campaign, a co-branded promotion of Lays Maxx; Doritos & Honda Hornet bike. Brand Street India has liasoned with Honda Scooters & Motorcycles India and developed a co-branded sales promotion featuring Lays Maxx & Doritos (brands of PepsiCo) along with HMSI. This offer is exclusively valid across 300 outlets of Reliance Retail pan-India. The agency is deploying cost effective visibility solutions across these 300 outlets, to promote this co-branded sales contest.

Speaking about the new division, Surendra Singh, National Head, Brand Street India said, "A substantial share of our annual billings come from retail work, so we are incredibly thrilled to announce this specialized division. Retail is a pivotal touch point of a consumer journey and behavior. We certainly want to give more dedication towards this line of business and hence the need to have a separate division."

The retail division will be led by Yogesh Pahuja, Retail Operations Head, who has been working with Brand Street India since its inception and on his association and new division, Pahuja commented, "Our new Retail Story will not only execute vanilla visibility and communications; under the umbrella of Brand Street India, the advantage is that we can now focus on delivering impactful brand experiences inside retail touch points. We now have a separate Retail operations team and a BTL operations team to cater to this two distinctively varied business."

Pahuja holds close to 15 yrs experience in working with leading agencies like Shobiz Experiential Communications; DDB Mudra, Wings Brand Activation and Retail and so on. The new division is a natural expansion of the existing services being provided by Brand Street India to its clients. The company aims to get featured amongst the Top 10 experiential marketing agencies in India and bag few awards for their work within the next five years. They are even looking forward towards regional expansion after having introduced themselves to their untiringly exhausting list of clients.