"We aim to open 200 EBOs in next five years"
By Nabamita Chatterjee | September 24, 2014
Portico New York, the home luxury brand, has emerged as a leading bed and bath furnishing name in this category. With a clear vision to tap every segment of the market ranging from kids, youth, wedding, luxury and health, the brand is constantly adding new dimensions to their product portfolio as well as expanding their channels and reach through a comprehensive retail plan. Point-of-Purchase chats up with Arun Bhawsingka, CEO, Creative Portico, to know more about their expansion and retail strategy. Read on.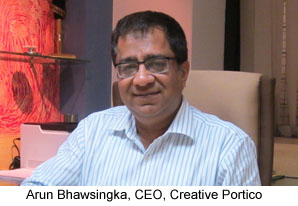 When was Portico launched in India? How difficult it was to create a niche in the home decor market in India?
Portico New York was launched in the year 2004 under the Creative Group. Creative Group is engaged in manufacturing and export of garments and home textile. It owns several domestic brands, namely, Portico New York, Stellar Home, Westa, Home Expressions, Bichauna. Portico New York is ranked as one the leading home fashion brands in India in its category. To a great extent the home décor market is unorganised in India and therein lies the opportunity to grow.

Throw some light on your product USPs and value additions?
Portico New York's wide product range encompassing bed sheets, bed spreads, duvets, duvet covers, mattress protectors, Dohars, and towels is designed around one philosophy: Everyone is different. So, there is a sense of style. Which is why, we aim to tap into every segment of the market ranging from kids, youth, wedding, luxury and health. Be it growing kids, restless youth, quintessential fashionistas, brides-to-be or health-conscious individuals, there is a Portico New York for everyone. We are the pioneer in licensed characters in kid's range and also have the biggest designer portfolio on board like Manish Arora, Neeta Lulla, Nishika Lulla and Wendell Rodricks. We also offer a health range for the health conscious people, for germ-free hygienic sleep.
How is the retailing strategy planned for Portico? Do you have EBOs?
We have taken steps to expand the market through additions in the product portfolio as well as expanding its channels and reach. We have expansion plans through all channels, besides metros, to be present in tier 1 and 2 cities as well. Portico New York currently has 22 exclusive stores functional in all key cities and counting. Portico New York has launched several stand-alone retail outlets in all the major cities in India which includes Mumbai, Chennai, Gurgaon, Lucknow, Calicut and Bangalore. Recently, Portico New York also expanded its stand-alone outlets in Patna, Hyderabad, Bhopal, Surat, Goa while in Mumbai, we have four stand-alone stores in popular shopping districts. Our strategic expansion plans include opening stand-alone stores in mini metros and state capitals in the following months.
However, Portico New York is the biggest brand in the large format stores, present in 16 cities and is present in almost 300 leading home furnishing stores across 50 cities.
In this e-marketing era do you feel that the brick and mortar stores are having huge threats when it comes to such products?
Everyone has the perception that e-marketing is taking away business. However, the fact is that it has expanded our reach. Now through e-commerce portals we are able to reach out to about 600 more pin-codes in different parts of India where we are not physically present. Secondly, we are in the premium segment; deals available on online portals generally take away the share of the value market.
What kind of challenges do you face when it comes to in-store brand positioning for Portico? What sort of in-store communication strategy have you planned for the brand?
To break the clutter on floor and to stand out is a challenge. We look out for maximum brand visibility and designated section for product placement, as well as sections as per our product category -- kids, youth, wedding, luxury and health. In-store VM and branding play a very important role to justify the brand presence on the floor.

What are you future expansion plans, both in the physical and online retail?
Our aim is to expand through 250-300 outlets pan India in the next three years and be available through all key e-commerce portals.

How encouraging is the market growth for this segment and where do you see it five years down the line?
Home textile market is a Rs 12,000 crore industry out of which 90 per cent is unorganised which gives an immense potential for growth. Our vision is to be the biggest and best in Home Textile. Our vision for Portico New York includes multiplying the magnitude of the home fashion revolution by establishing EBOs, with an aim to open 200 stores within the next five years. Thus establishing the brand as the biggest and best bed and bath furnishing products in the country in the next 3 years.

What has been your turnover last year?
We are growing at 35 per cent year over year and would continue to do that.