Asian Roots marks its footprint in Eastern India
By Nabamita Chatterjee | May 10, 2018
Kolkata witnesses the launch of DHI Medical Group's first luxury skin & hair clinic and the brand plans to open another clinic by next year in the city.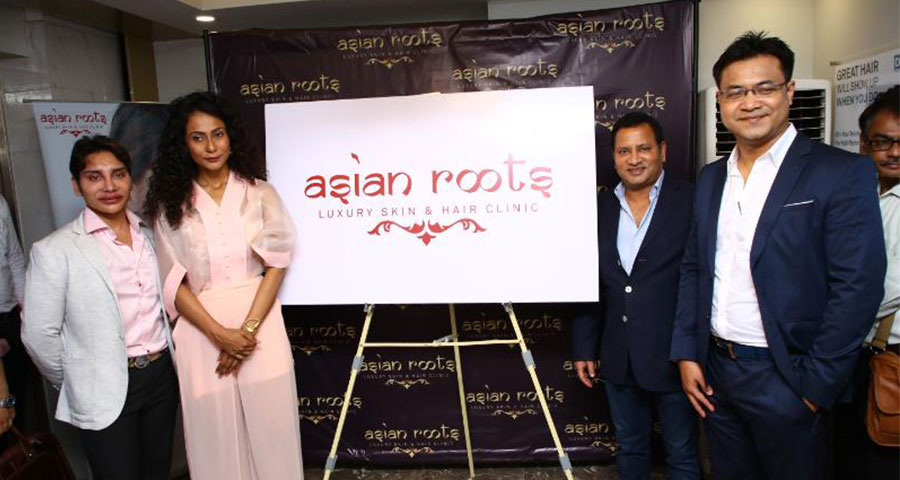 L-R Mr. Nripendra Guha, National Head-Aesthetics, Asian Roots, Renowned Model Ushoshi Sengupta and Mr. Ajay Bansal, CEO&MD, DHI International, Dr. Kuntal Deb Barma, Medical Director, DHI International & Partner and Asian Roots Kolkata at the launch of Asian Roots, Eastern India's first ever luxury skin & hair clinic
International introduces its first luxury skin & hair clinic, Asian Roots, in Kolkata. The clinic is located at the upscale Elgin Road and spread over an area of 2500 sq ft. Asian Roots is an aesthetic clinic which uses state-of-the-art technology to cater to all skin and hair care needs for all age groups. With internationally trained doctors and specialists on board, this luxury skin and hair boutique offers a gamut of world-class services.
Ajay Bansal, Managing Director of DHI International and Asian Roots said: "I have had a very special relationship with Kolkata for decades. I am very pleased that Asian Roots now provides an option to the beautiful people of Kolkata to enhance their natural beauty with world's best beauty treatments. I am very confident of a resounding success in Kolkata."
DHI International serves around 4,000 patients every year. It is a multi-million dollar business spanning 15 countries including India and is currently growing 40% year on year.
Kuntal Deb Barma, Medical Director, DHI International & Partner and Asian Roots Kolkata, says, "We realized the need for a world-class skin clinic in Kolkata, which provides services at par with the top skin clinics worldwide. The people in Kolkata are conscious and aware, and will settle for nothing less than the best. I am very happy to oversee Delhi's 5-star skin clinics coming to Kolkata. This will provide the best skin and aesthetic services possible."