Benor Organics plans geographic and product portfolio expansion
By VJ Media Works Team | Vjmedia Works | 3 | May 31, 2013
Online retailer for organic products, Desh'Se.com, now opens its virtual store to customers beyond NCR and also introduces a slew of new products.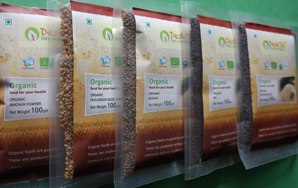 Started in December 2012, Benor Organics, has announced a geographical and portfolio expansion of its high quality brand of organic food and other products.
Desh'Se.com which started with taking orders from the NCR region, has now added 2,000+ pin codes from the North, West, and South India, enabling consumers to place online orders for organic products that are certified.
Adding to its existing product range - which includes whole grains, lentils, spices - Desh'Se is now introducing a slew of products like organic chutneys, organic sweeteners, organic breakfast cereals, organic snacks, organic heat and eat products, etc. The expanded portfolio includes organic textiles like socks that are anti-microbial, anti-fungal and odour-free, towels, hair wraps and bathrobes.
"We are proud to open our virtual store to customers beyond NCR and to have made significant additions to our portfolio. We, at Desh'Se, believe that organic lifestyle goes beyond just organic food and includes various other elements of organic living. The introduction of organic textiles at this stage is part of our portfolio strategy which will soon see the introduction of organic cosmetics and a range of other consumer products," said Shailendra Beniwal, CEO of Benor Organics. "We not only aim to enable a complete organic lifestyle, but also propagate the importance and relevance the same. The key lies in consumers appreciating the benefits of their choice. Organic products, apart from their health benefits, also have socio-economic and environmental implications. Let us not forget, they are eco-friendly as well."