Crocs opens its 74th retail outlet at CP, Delhi
By Satarupa Chakraborty | March 28, 2018
Crocs opens its 74 th outlet in Delhi's iconic high street destination Connaught Place and plans to take its store count to 150 by next year. The brand's store expansion will focus on exclusive mall stores and travel retail outlets.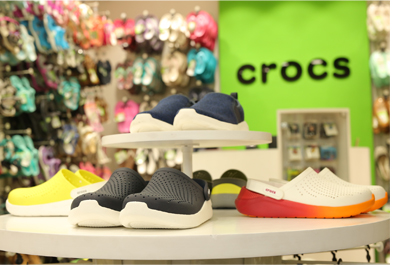 Crocs, the international footwear brand has recently launched their new store in Connaught Place, Delhi which also marks the brand's 74th outlet in the country. With the new store launch, the brand introduced their latest collection – LiteRide™. The collection, which has just made a worldwide debut, is the most innovative comfort technology to-date by the brand.
The brand's spokesperson shared, "We're witnessing a shift from comfort being a 'nice-to-have' to a consumer 'must-have,' and we think LiteRide answers that call," said Michelle Poole, Crocs Sr. Vice President of Global Product and Marketing. "In fact, our
LiteRide comfort technology is a perfect fit for consumers who want to feel comfortable all day every day or who simply want a stylish complement to their athleisure wear."
In an interview with VMRD magazine last year, Deepak Chhabra, MD of Crocs India shared, "We are making our distribution model more robust along with going strong with e-commerce channel. Most of our upcoming stores will be exclusive ones at malls while others would be movable kiosks." Crocs plans to reach to a mark of 1520 exclusive stores by next year while travel retail will remain a focus point in the expansion plan. Recently, Crocs's global business has reported a fourth quarter loss of 28.3 million dollar."