Crocs opens second store in Chennai
By VJ Media Bureau | Vjmedia Works | February 18, 2014
With this new store, Crocs now has 34 exclusive stores, 1 kiosk and 2 factory outlets in the country.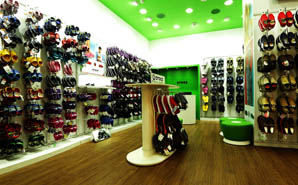 Crocs has opened a new store at the Phoenix Market City Mall in Chennai. This is the second exclusive Crocs store in Chennai.
The new store occupies an area of about 517 sq feet and offers shoes for men, women and children. Flip flops, rain boots, wedges, flats, loafers, sneakers, cozy boots and clogs will be available in a range of colors and sizes, suitable for everybody.
Announcing the launch of new store, Nissan Joseph, General Manager, Crocs India said, "Crocs, in a short period of 5 years has gained immense popularity in India and is known for its vibrant colors, comfort and innovative styling. We aim to have double digit retail growth on a year on year basis and the opening of our second exclusive store in Chennai is a part of our strategic growth initiatives. The brand has huge opportunity in India and with new product introductions every season being sold in the right places, we hope to satisfy our existing customers, and at the same time, acquire new ones."
Crocs began its operations in India in the year 2007. With this new opening, Crocs now has 34 exclusive stores, 1 kiosk and 2 factory outlets in the country. Crocs products are also available in more than 15 cities across India in more than 300 multi-brand outlets.
The new store opening hours are from 11:00 am to 10:00 pm. With fresh, white walls, the famously colorful CrocsTM will stand out prominently,
tempting customers inside. Curved contours throughout the store help create a sense of comfort and relaxation, enhanced by the green ceiling and wooden floor. The Crocs new collection includes Hover Synth Suede sneakers, SantaCruz Herringbone Loafer for men and Really sexi glitter flip glitter flakes, Cobbler stud ankle boots, Kadee W for women and CC Mickey Peek-a-boo Clog, Lightning Mc Queen for kids.