DDB Mudra welcomes Subhasis Chatterjee as AVP in Mumbai
By VJ Media Bureau | Vjmedia Works | June 12, 2013
After having worked in agencies like Bates, Publicis Ambience and Triton in career of 12 years, Subhasis Chatterjee joins DDB Mudra Group in Mumbai.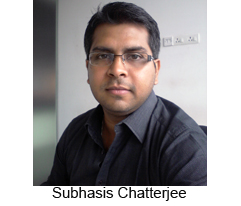 DDB Mudra announced that it has appointed Subhasis Chatterjee as AVP, and will report to Shally Mukherjee, Senior VP, DDB Mudra, Mumbai. Subhasis joins DDB Mudra from Contract Advertising where he was Group Account Director. With over 12 years of experience, Subhasis started his career at Hutchison Essar and then switched to the agency side. Commenting on joining DDB Mudra, Subhasis said, "I started my career working with a great brand - Orange, where I saw how a brand was more than just what we see in the ATL space. While the lead task of brand building may still depend on mass media, the Indian consumer wants much more from brands today. The multi-domain expertise of DDB Mudra Group, offers great potential to deliver such comprehensive and true brand solutions. And I am excited to lead this effort for my businesses."
On his appointment, Shally Mukherjee, Senior VP, DDB Mudra Mumbai, said, "Subhasis comes with cross-category experience and a great ability to partner clients and grow business. He will be partnering me on driving the DDB Mudra Group agenda while adding value to our clients' businesses and growing with them. He is a great addition to the team and we expect him to help further the confidence that clients have in DDB Mudra. We extend a very warm welcome to Subhasis and wish him a rewarding career with the organization." Previously, Subhasis Chatterjee has worked with agencies like Bates, Publicis Ambience and Triton. In these 12 years, he's worked on brands such as Google, Piramal Realty, Tata Photon, Set Wet, Papa John's Pizza, Parachute Aftershower and ICICI Debit and Credit cards among others.
Rajiv Sabnis, President, DDB Mudra Group, said, "Subhasis is a welcome addition to the DDB Mudra West talent pool. He comes from a strong creative and planning culture and we look forward to his contribution in the organization. He arrives at a time that DDB Mudra has upped the ante in the country and we are looking at consolidating and providing strong growth in the coming years. We expect Subhasis to deliver senior counsel to our clients and ensure communication integration across our group specializations. We welcome Subhasis to the DDB Mudra Group family and wish him a long and successful innings here."