Designer Flagship Store Fbr.Inc launched in Kolkata
By Nabamita Chatterjee | Vjmedia Works | July 23, 2013
Conceptualised by Kolkata based fashion designer Farheen Bushra Rahman, the store offers aesthetic detailing with a subtle edge.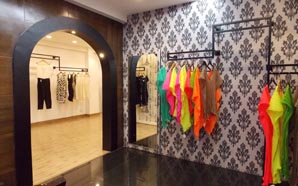 Farheen Rahman, the city based visionary designer, launched her sprawling flagship studio Fbr.Inc and unveiled the Spring-Summer collection amidst much fanfare. Strategically located at 3A Sukh Sadan, 52 B, Shakespeare Sarani, the designer store is completely conceptualised by Farheen herself. The entire concept of designing, dyeing and embroidery in the store has been the result of efforts by Farheen and her team of talented artisans. Spread over an area of 1800 sq.ft., the studio offers a wide range of Tailored Western wear and a line of customised Indian wear inspired by Black and White, the monochromatic colours which lend a touch of old world glamour with an edgy makeover. It is extended into the interior decor of the store as well.
Speaking about her store Farheen mentions, "My aim was to keep the decor minimal and it is best done by selecting the combination of black and white for the front part resembling the collection which accentuates sophisticated profiles perfect for Indian figures. The peppy beachwear range is showcased having a dark shaded backdrop capturing its summery essence and its inimitable style. We took almost 6 months to complete the project and are soon planning to go Pan-India with the brand." The logo of the brand, also conceptualised by Farheen, reflects four colours representing four seasons has also been a part of the store interior which appends a diverse colour palette in the wall breaking the theme of monochrome shade all around.
The store decor has been distinctively divided into two sections keeping in mind the collection offered. Once you step in, the minimalist decor in white textured walls with black hanging fixtures and pure wood flooring is sure to grab your eyes. The black and white wall-paper with motifs of clock towers, the huge golden framed mirror, the chest boxes offering a wide range of accessories showcases an inherent simplicity mingled with the charm of a bygone era, which reflect the signature detailing of Fbr.Inc. Another section of the store reflects a very vibrant look with floral motifs all around the wall perfectly matching the neon beachwear collection of Farheen. The flooring of black granite, the walls with a wooden finish and soothing feminine wall-papers and the Nail Art Bar section together make the brand store a perfect destination where one can experience a range of contemporary designs.