Dovetail completes 30 years in retail fixture business
By VJ Media Bureau | Vjmedia Works | April 06, 2015
Leading retail fixture manufacturer, Dovetail has worked for renowned brands such as Levi's, Future Group brands, Asian Paints, Calvin Klein Jeans, FCUK, Puma, Debenhams and Marks & Spencer.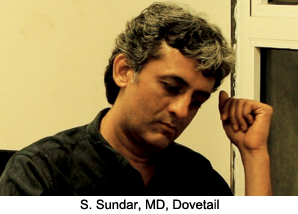 Back in the days, when retail design in India was in its initial stages, there were very few workshops that manufactured designs as per specifications. So, S. Sundar, Anand Arora, John Mathew and Jacob Mathew decided to set up their own facility, Studioline, which would translate their designs into actual forms as desired.
Talking about their first project with Weekender, S. Sundar, MD, Dovetail, says, "Weekender came to us with their store and wanted their display systems ready overnight. We worked with a catpole system, which is easy and fast to assemble and doesn't compromise on aesthetics as well. From there on, there was no looking back. We went on to execute 50 stores for the brand and in the process learnt the basics of shopfitting."
Today, Dovetail is one of the leading fixture manufacturers and has grown from humble beginnings when they worked out of a small workshop in Koramangala, Bangalore and in time the work was carried out from different workshops at the same time. In 2000, Dovetail moved into their factory and studio.
Going down memory lane, Sundar shares that when Levis came to India in 1994, Dovetail was entrusted with the task of indigenizing, fabricating and installing the fixtures for their new Asia Pacific concept, which involved new processes that they had to source and implement.
Their association with Future Group was a turning point in their growth chart. Till date, they execute a lot of projects with all brands under the Future Group umbrella. They have designed and fabricated fixtures for many of their chains and successfully completed projects on a large scale- in size as well as number.
The variation and challenge in the kind of work came with Asian Paints Colour World. For this, Dovetail designed shop-in-shops and went on to produce kits for over 1000 locations across the country.
Working with brands like Calvin Klein Jeans, FCUK, Puma, Debenhams and Marks & Spencer gave them exposure to global standards of shop-fit and a process of learning followed with the strict measures of quality standards, prototyping and approvals from these international brands.
Apart from their main workshop, Dovetail also has a solid woodworking facility and their own retail outlet - Designstore for home furniture and accessories in Bangalore.
On their future plans, S. Sundar says, "We have nothing crystallized as of now but we're working on it. The plan for our fourth decade is underway. We still have earlier projects which we are completing."