Efi ties up with KMI to address wide format market in India
By VJ Media Bureau | Vjmedia Works | August 14, 2014
KMI will represent Efi wide format printers in India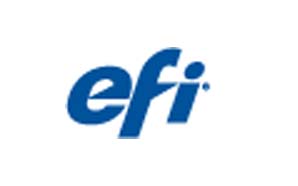 KMI Business Technologies has tied up with Efi for representing Efi Wide Format printers in India. With over 30 own sales and service points, along with a field force of over 300 people, KMI, is a part of the Hong Kong Headquartered "Amoli Group". Going further, KMI would be the authorised distributor for equipment, inks, spares and consumables for all Efi Wide Format printers in India.
Efi had recently conducted the worldwide launch of its latest H1625 LED printer at the US sign and display show ISA. The Efi H1625 LED is a mid-level production printer designed to maximise image quality with four colour plus white and grayscale print capability, and uptime with simple, automated operational and maintenance features. And with LED technology, customers will profit from lower running costs and the ability to print on high-value, specialty rigid and flexible substrates. Key features include:
Standard four colours (CMYK) plus two white channels.
Up to eight levels of variable drop grayscale.
White ink and multilayer print capability to extend users' premium margin offering.
Optimised for use with the EFI Fiery XF RIP.
Bidirectional communication capability between the Fiery XF RIP and EFI Wide Format printer allows back communication of audit information on every print job.
The Efi H1625 LED printer can over- and under-print with white ink. It is a 1.6m UV-curable engine and the first in its entry-level Wide Format line - formerly Rastek - to sport LED curing.
In its standard configuration, H1625 LED is a hybrid machine, printing on both roll-fed and rigid materials up to 5cm thick in four colours plus two white channels. At top speed, without white, it can output at 42.3sq m/hr, and onto a range of substrates - including heat-sensitive and 'high-value' media thanks to its LED curing unit. A vacuum drive belt system with variable control supports the media during production.
Printing in single pass using eight-level, variable-drop greyscale heads, the H1625 LED printer should appeal to printers desirous of adopting the functionality associated with the EFI badge, and at the same time answer smaller scale markets than those of EFI's VUTEk printer line. The machine feature magnificent green credentials with LED curing consuming less energy than mercury arc lamps, or latex.
"Given the results that LED has had in the market so far, bringing this green technology to the EFI Wide Format product line is an important next step in helping print businesses generate new, profitable opportunities," comments Scott Schinlever, senior vice-president and general manager for ink-jet solutions at Efi.
Efi H1625 specs are:
Handles flexible and rigid substrates up to 65 inches (165 cm) wide and 1.8 inches (4.572 cm) thick.
Image width up to 64 inches (162.56 cm) with full bleed printing.
Print speeds up to 455 sqft/hr (42.27 sqm/hr).
Resolutions up to 1200 x 600 dpi.