ENDO Lighting opens first flagship store in India
By VJ Media Bureau | Vjmedia Works | 1 | March 12, 2013
Internationally, Endo Lighting Corporation delivers lighting products to many well-known department stores, specialty stores, offices, factories, public facilities and other retail and hospitality projects.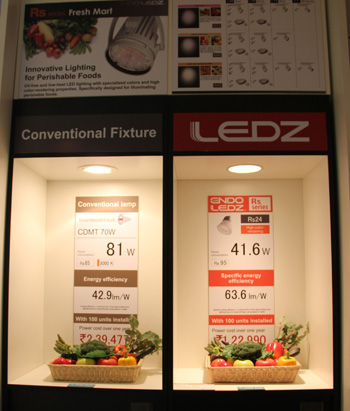 Bringing international LED lighting solutions to India, ENDO Lighting Corporation- a brand synonymous with superior quality and excellence in lighting announced, the launch of their multi-level flagship showroom- Endo Application Centre, in Defence Colony, New Delhi. The expansive two level standalone showroom occupies 4000 square feet area, displaying the very best in LED lighting.
Commenting on the launch of the Endo Application Centre in India, Mr. Ryozo Endo, Chairman of ENDO Lighting Corp. said, "It is a matter of great delight and honour to open our doors to the discerning consumer in India. Superior lighting fixtures, price competitive product, attention to detail and most importantly providing an Earth and people friendly lighting environment are the cornerstones of our brand and we aim to bring forth the same to our very valued customer in India as well. The Endo Application Centre is a stepping stone to further our success stories that we intend to carve in the Indian subcontinent with support from our discerning patrons."
Exuding international appeal, the showroom reflects a symphony of elegance and sophistication with a contemporary feel. Split into two levels, the store clearly demarcates and addresses the specific needs and requirements of a consumer, managed by a professional team of sales staff guiding and assisting the consumer through the myriad options of state of the art lighting fixtures
Talking about the Endo Lighting Corporation's flagship showroom in India, Mr. Muralidhar Manvi, President, Endo Lighting Accessories India Pvt Ltd. said, "We are delighted to present to the Indian consumer the unsurpassed magic of meticulous lighting! Addressing the needs of the ever evolving customer, the Endo Application Centre showcases their entire product range that caters to the needs of every segment of the Indian market. The range on offer from ENDO would be unrivalled in efficiency and product differentiation."
Headquartered in OSAKA Japan, ENDO Lighting Corporation was incorporated in the year 1967. ENDO philosophy is to continue to challenge value creation and contribute to the society through environment friendly technology.