EyeCatchers opens their 13th outlet at South City Mall
By Nabamita Chatterjee | April 17, 2018
EyeCatchers Hair & Beauty Salon plans to expand soon in overseas markets, while in India they are looking at more number of outlets in Bangalore, Ahmedabad and Kolkata, as well as Mumbai and Pune.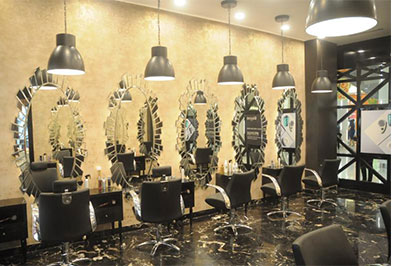 EyeCatchers, the Hair and Beauty Salon is on an expansion mode and recently opened their thirteenth outlet at South City Mall Kolkata. This unisex salon offers premium services for hair, skin, grooming and makeup. Nitasha Das, Marketing Manager of EyeCatchers Salon shares with Retail4growth, "Eyecatchers first outlet opened in South City Mall way back in 2004. Since everyone knows that the mall was going under a renovation it was a challenge for us to come back at this spot with our new flagship salon. South City always hold a special corner in our hearts and we are happy to cater this catchment again." The flawless decor and the grandeur of the salon will give the customers a luxurious experience. The rich look of the flooring, the amazingly designed mirrors, the pendant lighting decor, adds to the charm of the salon.
The 2000 sq.ft. outlet has been jointly conceptualised by the EyeCatchers team and their interior designer Sanjiv Sinha. Nitasha also said, "This new outlet of EyeCatchers here at South City Mall has for sure created a benchmark in terms of luxury standard as this type of outlet was needed for the city. Keeping in mind the needs of our guests, we have created an ambience that will resonate the promises of luxury service that we always believe in. The expertise of our stylists help in creating new hair ideas without disregarding the classics. Our Nail Bar and the dedicated salon section for kids is also a special attraction that we have added in our new outlet. That's what completes the whole concept of a beauty salon".
Presently, EyeCatchers has 13 salons across India in luxury malls and high streets of cities like Bangalore, Kolkata, Guwahati, Ahmedabad, with more outlets to be launched soon, the salon chain is looking forward to a greater pan-Indian presence. There are further plans to open more salons in Bangalore, Kolkata and Ahmedabad which they feel has great potentials and more outlets can really tap that market well.