FabAlley targets 20 more stores of Indya
By Satarupa Chakraborty | April 05, 2018
With 3 operational stores and 2 more to come, FabAlley plans to add 20 brick-and-mortar stores of their ethnic private label brand, Indya. The brand has revealed its plan to invest about INR 6 crore this financial year towards its offline expansion.
Omni-channel fashion retailer FabAlley plans to open 20 more stores for its private label Indya- an indo-western brand, by the end of this year. With the brand's recent announcement of two new 'Indya' stores in Ambience Mall, Delhi and Phoenix Market City, Chennai, there are currently a total of 5 Indya stores in the country.
Tanvi Malik, co-founder, FabAlley, commented, "Ethnic wear currently occupies a whopping 74 per cent of the market share in the women apparel retail market in India with its sales being predominantly routed through offline channels. Through Indya, we have tapped into this market and are confident of the success of the brand. Our target for the next 8-9 months is to launch 20 profitable offline stores for Indya, with a focus on quality, profitability, stellar in-store operations and customer experience."
FabAlley first forayed in the offline retail space in 2016 with a partnership with Future Group's Central Mall. At present, Indya and FabAlley brands have over 65 shop-in-shops combined across the country apart from the mentioned 5 standalone stores. Shivani Poddar, co-founder, FabAlley, said, "Our offline strategy is to expand Indya's presence across the country creating a touch-and-feel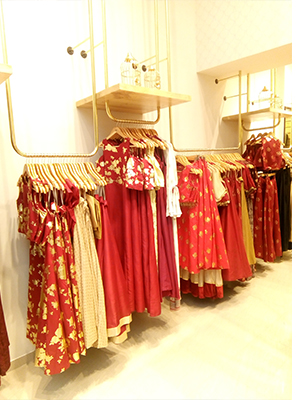 experience for the consumer. We plan to invest over 6 crores this financial year on offline expansion. Our estimated offline revenue share will go up to 30 per cent of the company's total revenue by the end of FY19. Indiscriminate expansion is not on the cards as our offline strategy is focused on being profitable at every door we operate."
Besides their fusion label Indya, the company has two other brands — FabAlley for western wear and Curve for large-sized women. While a major chunk of the company's revenue comes from its online channels, offline sales from the Indya stores and shop-in-shops are also picking up, already having contributed over 25 per cent to overall revenue.