FMCG sales growth slows to 3.2% in Apr-Jun
August 09, 2016
Urban spending muted, rural sales grow on low base: Nielsen
The growth in sales of fast-moving consumer goods has slowed down in April-June to 3.2 per cent, year on year, from 5.6 per cent in January-March, according to research agency AC Nielsen.
Growth of FMCG sales by volume and value has declined from 7.2 per cent and 9.7 per cent, respectively, in July-September 2015 to 3.2 per cent and 4.4 per cent in April-June 2016.
Urban sales growth in April-June was 3.5 per cent, with none of the broad categories - food, non-food and over-the-counter pharmaceutical products - growing faster than five per cent, year on year. Hair oil sales shrank by 0.9 per cent during the quarter while toothpaste sales rose 0.4 per cent and shampoo sales rose 1.3 per cent.
"Consumer sentiment is down and the cost of living has gone up. This has led to urban household budget cuts and smaller pack sizes," said Pinaki Ranjan Misra, partner at consultancy firm EY India.
"Layoffs in sunshine sectors like e-commerce have sent out a message that economic recovery is still some time away," said an analyst with a global consultancy firm. Increased grey market activity might have also affected sales of organised players, he added.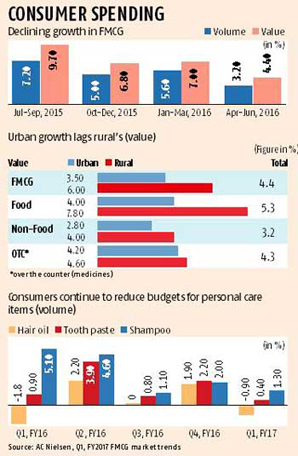 FMCG sales growth in rural market during April-June was six per cent, year on year, significantly higher than in the urban market in all broad categories. Food product sales grew 7.8 per cent during the quarter and non-food products posted 4.2 per cent growth in sales.
Sales of consumer goods in rural markets have been muted over the past two years as income did not grow due to poor harvests, slow rises in farm support prices, and lower spending on the village unemployment dole.
The lower base has boasted rural sales growth figures during the quarter. "Companies also filled gaps in penetration and reached untapped areas, helping sales to grow," an industry executive said.
According to Nielsen, marketing expenditure by major FMCG firms like Nestle, Marico and Dabur during April-June grew by over 10 per cent. "Advertising and promotion is an all-time high as growth has tapered off," said Sunil Duggal, chief executive, Dabur India.
"A good monsoon will bring relief to FMCG companies," pointed out Rajat Wahi, partner and head, consumer, retail and agriculture, KPMG in India. As pay hikes to government employees start rolling, the sector may expect a demand spurt in September-December.