FOREVER 21 unveils 2nd store in Delhi
By VJ Media Bureau | Vjmedia Works | August 20, 2013
Continuing with its expansion spree, FOREVER 21 has introduced another new store at the Pacific Mall, New Delhi.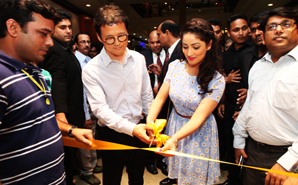 FOREVER 21, Inc., one of the ace fashion clothing, footwear and accessories retail chains in the U.S. has announced the launch of its second store in Delhi at the Pacific Mall. Bollywood actress Yaami Gautam was present at the venue, to unveil the new store, in the capital.
Spread across two-levels, the store spans over 15,500 square feet featuring Forever 21® apparel and accessories blended with the retailer's other brands, which includes 21MEN™, a line for men of all ages, Love & Beauty™ a cosmetics line and Forever 21's lingerie and shoe line.
"We are extremely excited to launch our first store in the Western region of Delhi at Pacific Mall," said Alex Ok, Global Director, Forever 21. "Working with our venture partner, DLF Brands, has enabled us to enter the market in a systemic manner. Pacific Mall is the perfect location for Forever 21 given its unique location, conceptual entertainment events and impressive design," further added Alex.
"Our strategy was to embark on expansion for Forever 21 into India within 2013 and Pacific Mall has provided us with an excellent location that we will make into a fashion Mecca. The shopping experience of the mall is excellent and we are convinced that the mall will generate year over year positive traffic index," said Timmy Sarna, DLF Brands spokesperson.