Funskool raises its game
September 02, 2015
The company is expanding its brand footprint by setting up Funskool stores in tier-II towns and developing its own labels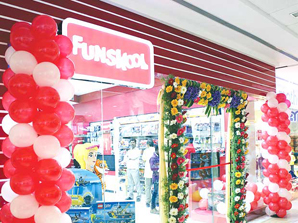 A little over a year after the first Funskool toy store came up in Coimbatore, the MRF promoted company is expanding its footprint and the list of labels under its brand. It has already opened 8 stores in cities such as Amritsar, Cochin, and Indore and plans to set up a few more. It is also appointing a team of online distributors for its products and expanding the portfolio of labels under its umbrella. It, however, refuses to divulge investment details except that it expects to close the year 2015-16 with a turnover of around Rs 180-200 crore and e-commerce billings, which currently account for 5-6 per cent of total revenues, to be significantly higher by that time.
TOY STORY
Logo

store opened in Chennai in 2013

First Funskool store in Coimbatore in 2014

8 stores opened between 2013-15

Expects to open 10 stores every year in the next three years

Brands include Lego, Hasbro, Leapfrog, Dora the Explorer
Set up in 1987, Funskool is promoted by the MRF group. It holds licenses for 20-odd global toy brands, which includes popular labels such as Lego, Disney, and The Game of Life series among others. The Funskool stores will stock these, as well as, in-house brands; the stores will be run by company appointed franchisees. John Baby, CEO of Funskool India said that the company expects sales and expansion in the metros to be through multi-brand retail stores and in tier-II markets, through Funskool stores.
On the retail trail
'What made us enter the retail space was the limited space allotted by the stores for toys, which makes it impossible to showcase the range of our offerings,' explained R Jeswant, vice-president (sales & marketing).
Funskool stores, spread out over 1000 to 1400 square feet, are meant to provide kids and parents with a unique experience. Before the first Funskool store came up in March last year, the company had experimented with the format with a Lego store in Chennai, which gave them the confidence to set up more such stores.
The company plans to add at least 10 stores every year in the next three years and the focus will be tier-II towns; although the company deviated from this strategy when it set up shop at Hyderabad and Chennai, but that was because the urban demographics of these cities offered an untapped opportunity.
Today nearly 70 per cent of India's toy market is disorganised, according to Assocham, and therefore it is difficult to estimate its true size or arrive at credible growth numbers. Funskool estimates the market to be around Rs 2,500 crore and says that it is the market leader; a Euromonitor report says Funskool overtook Mattel as the largest player in the country in 2014. 'We are talking about 400 million kids below the age of 14, the future looks extremely promising and saturation is very long way,' said Jeswant.
Bigger brand portfolios
Funskool is looking at the retail foray to provide a launchpad for their own brands as well as for a host of new labels that it has signed on. John Baby said that Funskool's home brands help take on imported toys mainly from countries such as China, Korea, Malaysia, the UK and even the US.
Companies face a dilemma when they sell licensed toys or make toys for other brands as there is always a fear of losing out to cheaper competitors he says. This makes it imperative to have their own labels. On the other hand, companies find it difficult to cater exclusively to the Indian market since it is disorganised and hence branded products lose out to cheap fakes. Baby said, 'If you are adding a new line and addressing only the Indian market it is expensive. China is able to do that, since they are addressing world market.'
The solution is to scale up and develop global brands, which he says is possible 'if we own the brands and hence can confidentially go-ahead and invest. We need to take our brand and market it both in domestic and international markets.'
Funskool will manufacture its brands at its two factories in Goa and Tamil Nadu. Besides the domestic market, it is also betting big on exports. It currently exports to Sri Lanka, Maldives, Nepal, Bangladesh, Bhutan and UK. The company is now looking at US market.
The company is also expanding its list of licensed brands and has been introducing at least four or five products every month, said Jeswant. With all these developments the company hopes that it will grow faster than the rest of the industry. Jeswant said in the last five years, the market had grown at around 12 per cent and Funskool has grown at around 25 per cent. In 2014-15, Funskool clocked a revenue of around Rs 150 crore (billing price), up by 23 per cent compared to the previous year and of which 40 per cent came from products manufactured by the company. The toy story, for Indian toymakers could be changing.