Futurebrands Consulting's COO to speak at In-Store Asia, 2019
By Retail4Growth Team | March 05, 2019
Aanchal Jain, COO, Entrepreneurial Practice, Futurebrands Consulting, will bring her experience in retail, product, marketing, to moderate a key session at ISA, 2019.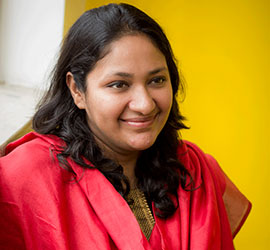 Aanchal Jain, COO, Entrepreneurial Practice, Futurebrands Consulting, will join as the Moderator at the knowledge session titled, 'The Rise, Growth and Plateau of India's Retail Design Industry' at In-Store Asia 2019 (now a part of the family of EuroShop Düsseldorf, the world's #1 retail fair), the largest retail experience expo and convention in the Indian subcontinent. The upcoming edition of the event is scheduled to be held during March 14-16, 2019, at Bombay Exhibition Centre, Goregaon, Mumbai.
Aanchal believes in transformational ideas and disruptive innovation as a key proposition in the business of brands. At Futurebrands Consulting, she leads the brand strategy and transformation projects for entrepreneurial brands like Lenskart, Biba, Zivame, Sleepwell, Upgrad and many more. Futurebrands consulting builds insights-led strategy for businesses, which conceptualises brand success from consumer point of view. Aanchal has led several successful projects with her team to discover unique successes for her brands and implement them flawlessly.
She started her career with Domino's Pizza with their 100 store launch roller-coaster year in 1999. She then joined Tanishq. She was part of the team which experienced the turnaround at Tanishq. Aanchal led significant initiatives in retail, product, marketing and was Head of Brand in her last role at Tanishq.