Godrej launches U and Us Home Design Studio in Bangalore
By Disha Baruah | May 03, 2018
U and Us Design Studio is the first exclusive flagship store by Godrej with a rebranded look and feel. The space uses augmented reality, offering customers a real life experience of spaces they configure and create.
Godrej Interio has recently introduced U and Us Design Studio, a novel concept in furniture designing at Koramangala in Bangalore. Spread over an area of 1400 sq.ft., the studio has a team of talented designers and carpenters who will collaborate with the customers for giving customized solutions for their home interior. They will guide customers through detailed space layout, decor and furnishing, thereby offering a 360 degree solution towards home renovation.
At U & Us, Godrej has used virtual reality using the best of technology to help customers visualize exactly what their homes are going to look like after décor customisations. As per the brand,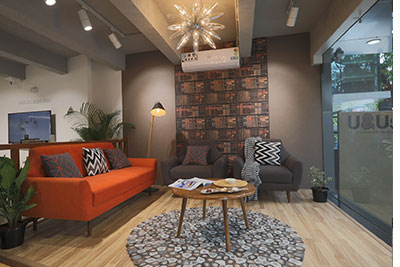 the technology used by Godrej is not available in the market and is created by their own designers. Customers will get ample of options to select from. By using a colour visualizer they can see what colour will suit their walls as well as the library of materials will give the customers a satisfaction of building their own homes with their own piece of furniture.