Himalaya ranks top in consumer engagement
By VJ Media Bureau | Vjmedia Works | July 24, 2013
This was one of the findings in a report by Simplify360, a leading social business intelligence firm. It also pointed to other interesting observations such as the social media presence and the value added services of organized players in the healthcare segment.
Emami Frank Ross, Trust Chemists and Druggists, Dialforhealth, Medica Health Shoppe
Pharmacy sector, being the second largest in the Indian Healthcare sector, constitutes institutional sales and non-institutional sales. While the Institutional sales happens through bulk deals of sourcing pharmaceuticals to health institutions, hospitals and nursing homes, the non-institutional sales happens through the retail stores. Thus retail stores play a vital role in acting as a sales channel for drugs to reach the consumers.
Indian retail pharmacy industry is mostly dominated by unorganized players though a few organized players have made their head way in to the industry. Most of the organized players have their strong presence regionally with some players eyeing a Pan India presence. We have come up with insights on social media presence of these organized players and the shopping behavior of consumers.

The following organized players were considered for analysis: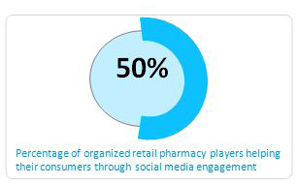 <![endif]-->
WHAT ARE THE KEY VALUE ADDED SERVICES PROVIDED BY THIS ORGANISED PLAYERS TO THEIR CONSUMERS?
This players were also seen providing a variety of value added services to their consumers include telephonic orders, health advisory services, consumer loyalty programs, discounts & offers, free health camps, purchase options through online and mobile apps by taking the prescription form. About 36% of the organized players help their consumers to purchase drugs online on their webpage by taking the prescription form.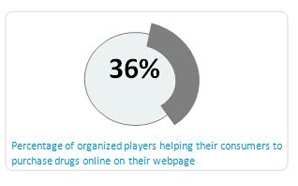 <![endif]-->

WHAT ARE THE KEY ATTRIBUTES LIKED/DISLIKED BY THE CONSUMERS ABOUT THESE PLAYERS?
Consumers were seen admiring value added services such as free home delivery, 24x7 services, availability of wider variety of medicines, online and mobile purchase options and health advisory tips provided by this retail organized players. Poor service in terms of late delivery of the medicines, rude behavior of staff etc. were the attributes disliked by the consumers
RANKING OF MAJOR ORGANIZED INDIAN RETAIL PHARMACY INDUSTRY PLAYERS BASED ON THEIR SOCIAL MEDIA ENAGAGEMENT