HP's new range to increase productivity of sign & display PSPs and corrugated converters
By Nabamita Chatterjee | Vjmedia Works | July 24, 2015
The brand unveiled Latex 3500 and 3100 Printers, HP Scitex 17000 Corrugated Press for the graphics & printing industry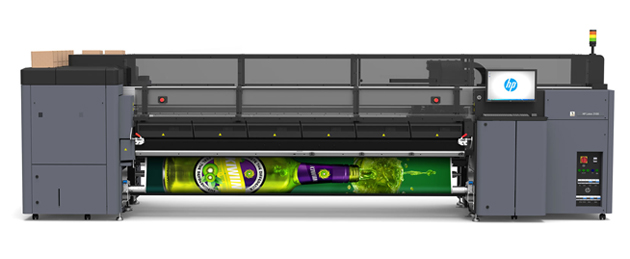 HP unveiled the HP Latex 3500 and 3100 Printers, expanding its proven HP Latex Technology portfolio, and grew its digital corrugated offering with the HP Scitex 17000 Corrugated Press. These new solutions will help sign and display print service providers(PSPs)and corrugated converters increase their productivity and workflow efficiency.
The high-volume PSPs are constantly challenged to deliver short turnaround times across varied applications, and HP is addressing these challenges to better meet the various production needs of sign and display PSPs with the new 3.2-meter (126-inch) HP Latex 3500 and 3100 Printers. The new HP Latex 3500 Printer handles high-volume, dedicated application production, boosting productivity helping to reduce production costs. With heavy-duty roll handling up to 300 kg (660 lbs) and 10 litre ink supplies, the printer enables more unattended operation such as overnight printing. Additionally, dual-roll split spindles offer easier, safer handling of oversized rolls; in-line slitters reduce bottlenecks in finishing; and built-in LED lights support on-the-fly proofing.
"Every day, clients are sending us shorter and shorter deadlines. They want better quality and longer runs. Our team was pushing the limits of our existing print equipment to meet demand and keep our customers happy," said Andy Wilson, Managing Director, PressOn UK."The HP Latex 3500 Printer has allowed us to push the boundaries even further. The larger media rolls and ink supplies allow us to produce longer runs and save time by printing overnight, enabling us to drive down operational costs."
The HP Latex 3100 Printer is ideal for large sign and display PSPs with a diverse service offering and it has printing indoor quality at speeds up to 77 m2/hr (830 ft2/hr). "PSPs are increasingly faced with complex jobs and shorter lead times, stretching existing equipment to meet client demand," said Xavier Garcia, Vice President and General Manager, Large-Format Sign and Display Division, HP. "The new HP Latex printers further establish HP's industrial Latex portfolio, delivering a new level of productivity and operational efficiency to help our customers fulfill even the most demanding high-volume sign and display print jobs."
The new HP Latex 3000 Printer series is also JDF-enabled, a standard language that allows data to pass between different systems to simplify data exchange and collection, helping PSPs reduce labor costs and increase profitability through automation.
Helping converters address market demand for shorter runs and faster turnaround times, the new HP Scitex 17000 Corrugated Press, powered by HP Scitex HDR Printing Technology, can increase digital print productivity for cost-effective corrugated packaging printing. The new press features the recently introduced HP Scitex Corrugated Grip and HP HDR230 Scitex Inks and prints at speeds of up to 1,000m2/hr (10,764 ft2/hr) for economical, high-volume production of industrial-grade corrugated boards. Prints made with the HP HDR230 Scitex Inks on a representative coated media have been independently certified as having Good Deinkability.
"With growing customer demand for faster production, our full-service team frequently moves from graphic design to printing in a matter of days," said Louis DeJesus, Owner, Third Dimension. "The HP Scitex 17000 will help us increase speed to market, meeting deadlines impossible with conventional corrugated equipment. The new press is a key ingredient in our plans for accelerated digital corrugated growth, extending the same high-volume capacity of the HP Scitex 15000 to power our new Charlotte, N.C. facility."
HP is also introducing the HP Smart Uptime Kit for HP Scitex Presses, a cloud-based inventory management system enabling customers to log parts, track usage and extract reports for increased production uptime and productivity.