Kellogg's to distribute Pringles in India
By Dinesh Jain | Vjmedia Works | January 22, 2014
This will be the first step towards integration of the brand, acquired globally two years ago, with the Indian unit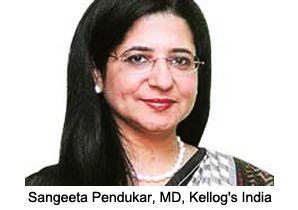 Kellog's, the breakfast cereal maker, will soon begin distributing
Pringles
Wafers. This will be the first step towards integration of the brand, acquired globally two years ago, with the Indian unit.

Kellogg's, which operates globally in snacks, besides breakfast cereals, had bought Pringles from Procter & Gamble (P&G) in a $2.7-billion (Rs 13,000 crore) deal in February 2012.


P&G, the world's largest consumer products company, had decided to sell Pringles as part of a bid to exit non-core businesses. For Kellogg's, however, also the world's largest breakfast cereal maker, Pringles was a key addition to its portfolio of convenience foods.

In India, Pringles, not less than Rs 50-100 a container, is imported and sold by a number of distributors.

Sangeeta Pendurkar, managing director (MD), Kellogg's India, says the company will take over distribution this year, expanding its presence beyond breakfast cereals, where it has 60 per cent share in a Rs 700-crore market.

"We will look at other food categories, since we play in snacks and breakfast cereals globally. Integrating Pringles into our system is one such initiative," says Pendurkar, who took over as MD in October 2010.

The Mumbai-headquartered company grew 31 per cent in net sales for the financial year ended March, crossing Rs 500 crore. In three years, also Pendurkar's tenure, the company has maintained this rate.

FY14 is expected to be the same. The company is getting aggressive, introducing a Rs 5 pack, increasing the number of flavours and variants under corn flakes, muesli and oats, as well as increasing advertising spend and distribution reach.

"Our Rs 5 and Rs 10 packs act as recruiter packs and are significant contributors to revenue," Pendurkar says. "We have also taken our distribution reach from 240,000 outlets to 290,000 in a year, targeting tier-II and tier-III markets. Our endeavour is to try and reach as many as possible, as we look to improve penetration."

Experts said breakfast cereals remain largely an urban phenomenon, with consumers looking at cereals as a convenient and healthy option in the morning. Kellogg's has in recent years expanded its portfolio, targeting products at children (Chocos), women (Special K) and families. Competition for Kellogg's comes chiefly from PepsiCo (Quaker Oats), Marico (Saffola), Baggry's and Dr Oeter.

Segments such as oats and muesli, said experts, have grown faster than corn flakes in recent years, due to competition from Marico and PepsiCo.

Pendurkar said beside segmentation of the market based on price and consumer profile, localisation of flavours will be critical to growth for most, including Kellogg's. "We continue to invest significantly in this area to come out with products that suit local taste profiles." Some local flavours in Kellogg's portfolio include a pudina variant in oats and a mango flavour in corn flakes.