Malabar Gold & Diamonds opens 11 outlets across the globe in a day
By Rita G Chauhan | January 12, 2018
Malabar Gold & Diamonds, jewellery retail chain opened 11 outlets in 6 countries in a day. With this fast expansion plan, the brand is crossing the milestone of 200 outlets across the world.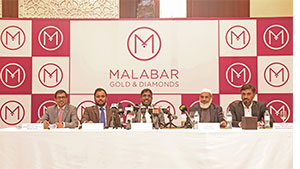 Malabar Gold & Diamonds, a leading jewellery retail chain, is on an expansion spree. The brand has launched 11 new outlets across six countries in a single day to strengthen its global presence. The joint launch of all these outlets in different countries has helped the market leader to achieve the milestone of 200 outlets globally. This is for the first time that an Indian jewellery retail chain has opened such a large number of outlets spread across the world in a single day. After this launch, the total number of Malabar Gold & Diamonds retail outlets has reached to 208.
According to MP Ahammed, Malabar Group Chairman, "We are getting wide acceptance in the global market place. This is the major reason we are expanding our global presence. Our core business values such as adherence to transparency, honesty, quality along with our value added services, product designs that suited to every class of customers' taste cutting across age group are the key factors that give us global acceptance."
The company has launched outlets in a string of malls in the UAE like Al Hazana Lulu Mall, Al KhailMall, Al Buhaira Lulu Mall, Sahara Centre, Ajman City Centre, AMK Hub in Singapore, Lagoona Mall & Mall of Qatar in Qatar, Muscat City Centre in Oman, Ampang Mall in Malaysia, and Warangal in Telangana, India.
In 2017 alone, Malabar Group has opened 27 showrooms across nations. As a part of global expansion plans, Malabar Gold will be opening another 50 showrooms under different formats in various countries in 2018. Ahammed confirmed, "In 2018, we will be opening more showrooms as well as manufacturing units. This will fuel our vision to become the top jewellery retailer in the world". "We will be expanding into new horizons, marking our presence in countries such as the US, Sri Lanka, Brunei, and Bangladesh," Shamlal Ahammed, Managing Director of International Operations Malabar Gold.
The upcoming showrooms of the group are at Mannarkad (Kerala), Abbasiya (Kuwait), Himayat Nagar (Hyderabad), Kondapur (Hyderabad), Mall of Travancore (Kerala), Noida (UP), South Extension (Delhi), Vashi (Mumbai), Ludhiana (Punjab), Surat&Rajkot (Gujarat) and Karim Nagar (Telangana). In India, the company currently operates manufacturing units in Kerala, Tamil Nadu, Karnataka, Telengana, Maharashtra, Bengal and in abroad, Saudi Arabia, Qatar and UAE.