Nando's PERi-PERi sauce launches in India
By Nabamita Chatterjee | December 11, 2017
Nando's sauces are now available in 30+ cities and 2,400 stores across India in Delhi NCR, Bangalore, Chandigarh, Mumbai and Chennai and online at Amazon.in and Big Basket.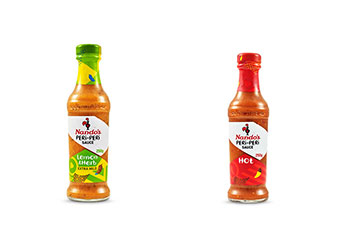 Nando's, known for its flame grilled PERi-PERi chicken, has officially launched their PERi-PERi sauces recently in India! Nando's comes in 2 flavours: Lemon & Herb and Hot. Nando's sauces are available at retail stores in Delhi NCR, Bangalore, Chandigarh, Mumbai and Chennai and at online at Amazon.in and Big Basket.
"In 1987, Nando's opened its first Afro-Portuguese restaurant in Johannesburg, South Africa. In 1989, one of South Africa's top retailers suggested we bottle PERi-PERi, and so we did. Now, there are Nando's Sauces on the shelves of key retailers in 30 countries around the globe and India was always one of our prime target markets. The journey of our sauces began under the hot sun in fertile soils of South Africa, where our unique African Bird's Eye Chilli known as PERi-PERi thrived and ripened. Our chilies are hand nurtured and picked by 1,400 dedicated, independent farmers. Four of our favourite flavours are now available in packaged bottles at stores near you enabling you to bring Nando's PERi-PERi to your own kitchen." said Georg Gruber – Nando's, Grocery CEO.
"Another delight for our customers is that the sauces are gluten free, no artificial preservatives, no artificial colouring, no artificial flavorings and no added MSG (Monosodium Glutamate). This will give our customers an authentic taste of legendary PERi-PERi which is the perfect partner to any meal and delivers flavour first, heat second" he further added.
The brand has taken robust retail distribution channel across the country with making their presence felt at Delhi NCR in Big Bazaar, Foodhall, HyperCITY, Krishna Marche, Le Marche and Modern Bazaar. In Bangalore at ABRL More, Big Bazaar, Good Food Stores, HyperCITY, Godrej Nature's Basket, Nilgiri's, Spar & Trent. In Chandigarh at Empire Store, GP Supermart, Harry Hyper, M.G. Supermart, Peshawari Store. In Chennai it is present at Amma Naana, Five Star Classic, Gatsby, Iceland, The Gourmai Market, Wait Rose. In Mumbai it is also present at HyperCITY, Food Bazaar, Reliance, Food Hall and Nature's Basket.