Packaged Food: Luring The Indian Palate
By Nabamita Chatterjee | November 13, 2017
Packaged Food is conquering more shelf space at retail, holding one of the biggest share in the FMCG sector. Point-of-Purchase takes a closer look at how these brands are creating impact and capturing customer attention at the store level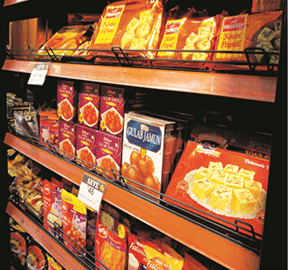 Hungry kya? Then grab a cookie or a bag of trans-fat free chips (or that's what they say)! Well, this seems to be the popular mantra for satiating our hunger pangs today. And even though eating fresh & healthy meals and consultation with the dietician or nutritionist is on the rise… it has had no massive impact on the packaged food products which is increasingly occupying more shelf space at the store and in our kitchen too. The Indian food and grocery market is the world's sixth largest, with retail contributing 70 per cent of the sales. The Indian food processing industry accounts for 32 per cent of the country's total food market, one of the largest industries in India and is ranked fifth in terms of production, consumption, export and expected growth, according to the Indian Brand Equity Foundation (IBEF) report. India's packaged food business is estimated to grow $50 billion by 2017 as per the Associated Chamber of Commerce and Industry of India (ASSOCHAM) survey.
STANDING OUT AT THE SHELF
However, with new brands and products arriving in the market every other day, there is a constant battle of the brands at the retail store, and the precious shelf space to grab the attention of the shopper. One of the biggest challenges today is being noticed in the cluttered space of a retail store is with the sheer number of brands and SKUs present in the market. Vipul Goel, Head – Trade Marketing at MTR believes that one of the key things to keep in mind while designing the visibility elements is that it is important to keep an "optimal size" perspective in mind that will not take up too much space and will also be noticed. The visibility elements should be designed in a way that it should make the product self-merchandise. An optimal Route to Market strategy is also critical in nature as it defines every action that is being taken in the market including affectivity and market penetration. "A sharper RTM strategy enables us to use Point of Purchase visibility resources more effectively in the market, thus bringing in a lot more focus and higher success and a maximum return on our investment".
To counter the competition with effective pop items the brands are utilizing multiple formats and experimenting with them both at the modern trade and at the traditional retail outlets.
Major packaged food brands in India
Britannia Industries, Amul, Mondelez, Nestle, ITC Limited, Mother's Recipe, Parle Products, HUL, Ruchi Soya Industries, MTR, Mother Dairy, Hatsun Agro Products, Pillsbury, Pepsico, McChain, Nissian, Kissan, IFB, Venkys, Haldirams, D'lecta foods, Gits foods, Knorr, Saffola
WHAT'S FUELLING THE GROWTH?
1.The growing interest in products offering health and wellness benefits drove the rapid shift from unpackaged to packaged food (specially for categories like edible oil, yogurt)
2.Apprehensions about the hygiene status of unpackaged food.
3.Increased product availability as a result of manufacturers' new product developments and greater penetration of smaller cities and rural areas.
4.Major shift in food habits in metropolitan cities
5.Ready-to-cook foods are rapidly gaining ground in urban India, as double-income families look for value and convenience.
6.Indian food and regional flavour also remains relatively untapped terrain, and an opportunity for startups.
7.Increased exposure to global flavours and Indians demanding cuisines from different countries.
RIGHT MARKETING MIX
On the other hand, many of the brands also feel that shelf space reduction is not the case for all categories. With the right marketing mix, brands can maximise shelf space. B. Krishna Rao, Category Head – Parle Products shares, "To create impact at the shelf level, it is critical to have the right marketing mix to be successful. In Modern Trade, one can create wrap around, floor stickers, end caps, innovative FSU's, sampling promotions, etc. While in General trade, one can look at options like hand-made POP material which clearly grabs the consumer attention along with new and innovative dispensers." And while getting right shelf space is a challenge, some brands have been successful in creating catchy in-store branding and POP elements to get the desired impact with the defined space at MT. However, the GT space still remains a tough nut to crack. Varun Jhawar, Co-Founder, Fizzy Foodlabs which has popular brands like Chef's Basket and Colonel & Co. says,"Is it obvious that in GT we find bigger challenge and thus now we are more focusing on introducing our mass range packets and they will be showcased in foldable metallic racks and corrugated racks for GT which will be retailer friendly."
DIGITAL : THE WAY FORWARD
Digital is an upcoming medium and advertisers are gradually exploring several such options but for a vast country like India it is surely going to take a considerable amount of time to take that leap. Moving forward, it is expected to be extremely popular in the large metros within few years. Static POP have been to some extent replaced by dynamic digital displays that are constantly updated with relevant content, allowing brand managers to control information and display with sharply focused messaging. Adding to this Vipul mentions, "The critical aspect for any POP is to execute a visibility element that brings alive the concept of the product in a unique, clutter-breaking way which would catch eyeballs, at the same time taking minimum space and investment. This is a hard balance to reach and digital has played a key role in helping brands to stand out on shelves." Thus, we may say that with the evolution of the Indian packaged food segment, the POP manufacturers is set to gain from these developments and must evolve to offer functional yet innovative solutions to thrive in this business.