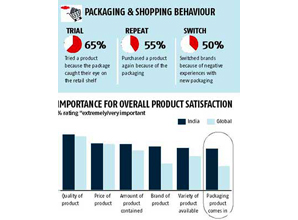 Brands in India could pay a bit more attention to packaging, one of the salient tenets in marketing's 4Ps, as a Packaging Matters study by MeadWestvaco, a global player in packaging, says. For the Indian consumer, packaging plays a very important role product satisfaction.

Packaging shapes shopping behaviour, influences product satisfaction and motivates consumers. Packaging is also a key driver of repeat purchase.

Brands and retailers can do well to get the pulse of shoppers and their reaction to packaging as the survey across Brazil, China, Germany, India, Japan, Russia, South Africa, Turkey, UK and US shows.

By focusing on the areas of improvement by product category, touch point, attribute and geography, brand owners can find new opportunities to increase brand loyalty - and repeat purchase - through packaging.
The level of product satisfaction was based on the following parameters: Quality of product, price of product, amount of product contained, brand of product, variety of products available and packaging of the product. Most Indian consumers gave high importance to the packaging as compared to the global average. Packaging is almost as important (71 per cent) as the brand of the product (75 per cent). This presents a significant opportunity for brands.

Indian consumers expressed that packaging has a significant impact on shopping behaviour both in-store and online, for first-time and repeat purchases.

Consumers are most satisfied with personal care product packaging (72 per cent) and least satisfied with packaging of carry-out meals/beverages (43 per cent). Fragrance, beauty products and non-alcoholic beverages trailed in satisfaction with 70 per cent, 67 per cent and 54 per cent respectively.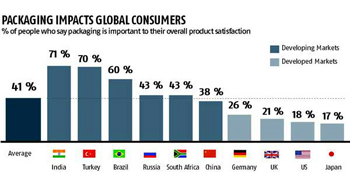 Packaging is almost three times more important to consumer satisfaction in developing markets (54 per cent), such as India, than it is in developed markets (20 per cent) such as US and Japan.

For in-store shopping, packaging serves as the main 'attention-getter' and can entice consumers to make a purchase decision. Around 65 per cent Indians tried something new because the package caught their eye, more than half purchased a product again because of the package and half of those polled switched brands because of new packaging.

Packaging can also lead to more stickiness online, with 30 per cent Indians (highest compared to other countries) becoming a fan on social netwoks because of a brand's packaging. Indians also have a greater predilection (31 per cent) to scan QR codes than the global average.

For products purchased online, shoppers are more likely to research a brand because of packaging - 41 per cent of Indians against the global average of 29 per cent.