Roland DG showcased VersaEXPRESS RF-640A at Media Expo Delhi
By VJ Media Bureau | Vjmedia Works | August 26, 2014
The company maintains that to be launching the RF-640A at Media Expo just a few months after launching the Versa UV LEF-20 in Mumbai demonstrates its commitment to be at the forefront of innovation in India
Roland DG in India, in conjunction with its master distributor Apsom Infotex Ltd, launched the VersaEXPRESS RF-640A wide-format printer at the Media Expo Delhi that was held during August 1-3. At the expo, the company also showcased videos featuring highly successful Roland DG customers ahead of the "I'm a Roland user" campaign, which will be shortly rolled out in India.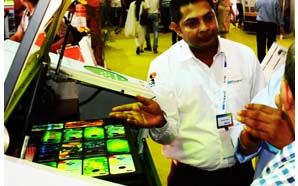 M.S. Dadu, Managing Director of Apsom Infotex Ltd, said in a company release: "Visitors from across India's northern states and even further afield were eager to learn more about Roland DG's technology and the vast range of applications its wide format printers and engravers can produce. Our market is on the cusp of the next phase of economic growth, and the products on display represent those required by any progressive print business to benefit from growing consumerism and the associated printing opportunities."
Jerry Davies, Managing Director, Roland DG (UK) Ltd, added: "To be launching the RF-640A at Media Expo just a few months after launching the Versa UV LEF-20 in Mumbai, demonstrates Roland DG's commitment to be at the forefront of innovation. Our focus is to support our customers by providing them with solutions that keep them ahead of the curve. Our success at the show is in no small way down to our partner and master distributor, Apsom Infotex. The Indian market is important for Roland and Media Expo is an excellent showcase for our new and innovative products that suit its entrepreneurial audience."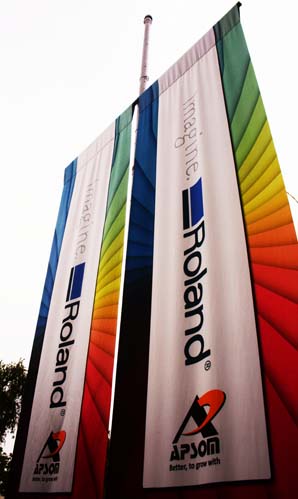 The Indian print market is dynamic and the choice of Roland products at Media Expo Delhi reflected this. First launched at Media Expo Mumbai in February, the VersaUV LEF-20 was introduced to an enthusiastic Delhi audience. The VersaUVLEF-20 allows new entrants to enter the print market through the highly profitable personalisation of a huge range of items such as, but not limited to, corporate branded giveaways, souvenirs, awards, promotional items, novelty gifts, USB sticks and phone cases. In addition, the VersaUV LEF-20 enables users to diversify into printing onto industrial parts or producing small-scale signage.
Also attracting a lot of attention at the show were Roland DG's high-speedeco-solvent, print-only machines, including the new Versa EXPRESS RF-640A with its speed of up to 48.5m2(518 ft2) per hour, and the 1625mm (64") wide SOLJET PRO4 XF-640, which is capable of printing up to 102m2 (1079 ft2) per hour, Roland's fastest printer yet.
The new Versa EXPRESS RF-640A has four h Roland DG horizontal ink slots to make it easier for the user to change ink cartridges, front and rear loading levers to aid easy loading of media, as well as an iPad app to allow the machine to be controlled remotely, all helping the user to increase productivity.
Also at the show was the Versa Camm VS-i series all-in-one print and cut device. The Versa Camm VS-I series gives users the flexibility to switch output between print only and print and cut, allowing them to satisfy client demands and diversify in to new applications such as decals, labels, heat transfers for garment decoration, retail POS displays, window, wall and floor graphics.