Satya Paul launches first flagship store in Kolkata
By VJ Media Bureau | Vjmedia Works | February 24, 2014
The flagship store conveys the brand's ingenuity in design and a vivid colour palette.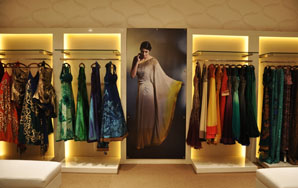 Satya Paul, one of India's first fashion players, opened their Kolkata flagship store at the Quest Mall . The 2000 Sq. Ft. space will be one of the first from Satya Paul to house an exclusive bridal lounge. "Kolkata has been on our mind for quite some time now. The brand has enjoyed a strong local customer base and we were looking for the perfect opportunity to reach out to them. The store will be offering the best of Satya Paul classics, along with an extended festive line," explained Sanjay Kapoor, Managing Director Genesis Colors. Masaba Gupta, the Fashion Director of the brand Satya Paul was also present during the launch.
Designed in a way to replicate a white canvas setting, the open spaces and marble flooring give a modern look while highlighting the signature product of Satya Paul having bright prints and a vivid colour palette. While the walls carry three dimensional rendering of Ogee patterns, different areas are demarcated with delicate partitions of wooden cut-work. Minimalism is maintained throughout, whether it is an open window display or modern seating areas. The store will offer the best of Satya Paul's printed Sarees, anarkalis, kurtis, dresses and accessories and the highlight of the Kolkata flagship outlet is a separate area dedicated to bridal appointments.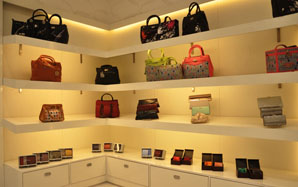 Established in 1985, Satya Paul has been India's premier design label with an international presence which became a part of Genesis Colors since 2001. The brand is now present at over 30 locations in India, and select high street boutiques abroad. Satya Paul also has flagship stores in Kuala Lumpur, Malaysia, and in Toronto, Canada. Genesis Colors (P) Ltd. is Satya Paul's holding company and they have also pioneered the concept of luxury retail in India.