Steelbird unveils retail outlet in Aurangabad
By VJ Media Bureau | Vjmedia Works | July 18, 2013
India's leading helmet brand announced the launch of its retail outlet to sell world famous helmets in Aurangabad, Maharashtra.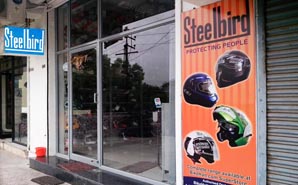 Steelbird Hi-Tech India Ltd, India's largest ISI helmet brand having Technical Collaboration with BIEFFE- World's Number One in Helmets, announced about its retail outlet to sell world famous helmets in Aurangabad (Maharashtra). Specifically meant for the sale of Steelbird helmets, the company has just launched a retail outlet in Aurangabad in the name of Retail Outlet- Steelbird Helmets, Shree Auto Parts Centre. Shailendra Jain - Head Sales & Marketing believes that this is also one of the areas with great potential for this particular concept as Maharashtra is one of the leading, progressive and modern states of India. Another aspect is that now people are more aware about their safety and want branded products ( Helmets and riding gears ) to be easily accessible. You can find super bikes owned by a lot of youngster these days. To ride these, one must have trendy helmet which we will be found at this outlet. To begin with they are selling Steelbird's exclusive range of helmets.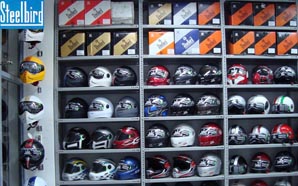 Shailendra Jain says, "This is the only exclusive helmet store in Marathwada region with more than 250 helmets on display. The said retail store will also help us in promoting Steelbird as a corporate supplier of helmets, and promote the products to corporate customers in the Waluj and Shendra Industrial areas in Aurangabad, as well as generate a large number of walk-in customers. Our vision is to promote the concept and open more and more retail stores across India."
This outlet would enable customers to go through the whole product range of the brand as these stores are positioned as a single window solution, where customers can choose from the portfolio. At the outlet, they will also be able to feel the product with guidance on what kind a product they must go with. According to Steelbird, this educative drive will make them choose the right product.