Suditi Industries partners with Anushka Sharma to launch women fashion wear brand
By Nabamita Chatterjee | September 20, 2017
The new collection that is slated to adorn store windows by October 2017, in time for Diwali. It will have apparels for girls and young women in the age group of 18 years onwards.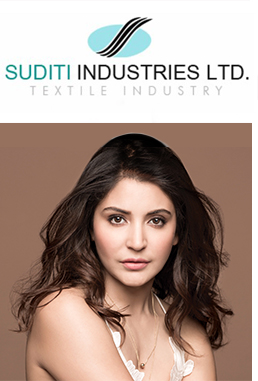 Suditi Industries recently announced a joint venture with renowned film personality Anushka Sharma to launch a western fashion wear brand for women. Speaking about the association, Pawan Agarwal, Chairman and Managing Director, Suditi Industries Ltd said, "We understand our audience, their aspirations and their style language. This, combined with Anushka's evident popularity and entrepreneurial spirit makes her the perfect partner for our foray into the women's wear line. We believe this is a natural progression to our existing product lines i.e. Riot and IndianInk. We truly believe that Anushka's classic style philosophy is the embodiment of our vision."
The official spokesperson of Anushka Sharma said, "Being an entrepreneur with her own production house Clean Slate Films, Anushka wanted to extend her entrepreneurial ability to a sphere that is close to her heart. This marks her foray into the business of fashion by launching her women's wear brand. She is happy to partner with Suditi Industries Limited, an established fashion house running successful brands."
In 2015, Suditi Industries announced the acquisition of licensing rights for FCBarcelona and ManCity. SIL joined hands with famed cricketer Yuvraj Singh in May 2016 to launch a clothing line under YouWeCan. This announcement is clearly a step in the direction of strengthening SIL's market leadership with world-class styles and products at competitive prices. The company has a strong retail presence through 2 of its key brands: Riot and IndianInk. Its retail brand Riot is an inspirational youth fashion brand that offers high quality fashion wear at economical price. It offers denims, bottoms, jackets, shirts for men, skirts, dresses, cardigans for women and other accessories. IndianInk offers a vivid range of contemporary fashion and styled garments for women. It emphasizes on ethnic and fusion wear. It offers a wide range of products like Kurtas, Tunics, Skirts, Salwar Kameez along with co-ordinates.