Tailorman - the designer menswear label unveils its store in Kolkata
By Nabamita Chatterjee | Vjmedia Works | August 12, 2015
Tailorman is present across seven stores in India and plans to open new stores in Delhi and Mumbai. The designer label will look at the East with more stores after consolidating this one.
Tailorman, the designer menswear label, enters the East zone market with their first store in Kolkata. On the official launch of the store, Tailorman also unveiled their "Festive & Ceremonial Collection 2015" keeping in mind the upcoming celebration season.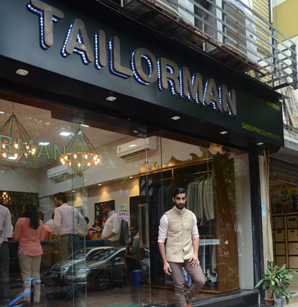 Spread over an area of 700 sq. ft. approximately, the "Tailorman" flagship store is located at Rawdon Street, Kolkata, one of the most popular high-street of the city and the outlet showcases the work of a strong team of in-house designers who strictly focus on menswear with a range of collection. "Tailorman" offers classic and trendy suits, smart jackets, fitted trousers, crisp shirts and bundys (Modi jacket). "Tailorman" has also forayed into traditional wear such as sherwanis & bandhgalas with subtle designs and further provides the consumer the facility of designing their own clothes too.
Speaking on the launch, Vidya Nataraj, Co-Founder, Tailorman stated, "Since its inception in 2013, Tailorman has been a paradigm of high quality made to measure clothing. Our collection pays great emphasis on detailing, state-of-the-art cutting technology and elegant designs. Also we have a very clean and standard look and feel for all our stores, designed by our in-house team. This particular Rawdon Street store perfectly fits the visibility quotient that we keep in mind while doing any retail expansion. Tailorman is a multi-channel brand and is present across both physical and online stores to give the customer a seamless experience. Tailorman is present across 7 stores in India at Bangalore, Chennai & Kolkata. Also with the menswear segment growing rapidly, we have further plans to open new stores in Delhi and Mumbai and we will look at East with more stores after consolidating this one".
Gautam Golchha, Co-Founder, Tailorman further added, "Tailorman has made an indelible mark in contemporary clothing for men as our clientele vary from all walks of life. We have unlimited appeal amongst the techies, consultants, industrialists, expats and even celebrities, who have an eye for both style and fit."